Bill Kristol: Obama 'Did Not Behave' The Way A President Should On Night Of Benghazi Attack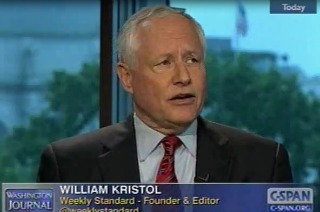 In an appearance on C-SPAN on Monday, Bill Kristol, editor of The Weekly Standard, scolded President Barack Obama for what reports suggest was his hands-off approach to the ongoing crisis in Benghazi on the night of an attack on that city's American consulate. "I am willing to say that he did not behave as a President of the United States should have behaved that night," Kristol said.

A C-SPAN caller asked Kristol about the second phase of the Benghazi attack, in which militants laid siege to an annex for several hours. The caller asked about the lack of a response to that ongoing attack and why reporting on the event varies so widely.
"You can come up with three different news stories that give three different stories and everybody contradicts each other," the caller said. "It would be to the benefit of the United States citizens for more truth in reporting."
RELATED: ABC News' Jon Karl Addresses Benghazi Report: 'Regret' Email Inaccuracy But Story 'Entirely Stands'
"Well, I agree with that," Kristol replied. He said that it is been clearly reported that there was "no serious effort" to respond to requests for a military response from the forces on the ground in Benghazi.
"I suppose we can take the attitude that there was a terrible disaster," Kristol added, "but, you know, we should just sit back and assume they all knew what they were doing."
"It's fine for the President of the United States to not talk to the Secretary of Defense, or the Chairman of the Joint Chiefs of Staff, or the commander of AFRICOM, or other relevant military entities, " he continued.
He said that, while the United States ambassador to Libya was fighting for his life, reports presently indicate that Obama was relatively disengaged. "The people I know in the military and the agency think there was a failure of presidential leadership," Kristol asserted.
Watch the clip below via C-SPAN:
> >Follow Noah Rothman (@NoahCRothman) on Twitter
Have a tip we should know? [email protected]