Bill Kristol: Obama Preparing to Submit to GOP's Demands on Obamacare That Forced Shutdown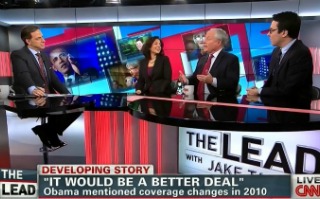 On Friday, The Weekly Standard editor Bill Kristol joined CNN host Jake Tapper to discuss how the roll-out of the Affordable Care Act was changing the political environment and how Washington would try to mitigate the damage the policy's implementation was doing to Democrats' 2014 political prospects. Kristol projected that President Barack Obama was preparing to adopt some of the programmatic fixes to the ACA that the GOP had recommended prior to and during the government shutdown.

Tapper began the segment by playing a clip from the televised negotiations between members of Congress and the president in early 2010 which proved that Obama was aware that millions would lose their existing coverage once the AC was passed.
"This is not a real secret," Tapper said, noting that observers of the debate over health care reform knew – as did the president – that some plans could not survive reform.
"He is indicating, I think, that he's going to go for a fix in December," Kristol said. "They'll try to get the website up on November 30th. They'll claim it's working fine even if it's working semi-fine or at all. Then, I think the dynamic of this debate will change in a pretty radical way."
Kristol said that, prior to the shutdown, Republicans demanded that portions of the ACA be delayed or repealed. Democrats insisted that nothing could be delayed because it was "the law of the land."
RELATED: Is Obamacare's Messy Roll-Out Redeeming the GOP's Shutdown?
"That was not a bad talking point, incidentally," Kristol said. "Once he acknowledges there has to be fixes, whether more subsidies or whatever he wants, then we're in a genuine legislative debate.
"It's a very fluid moment," Kristol said. "I think it's wise for the president to go in this direction, because I don't think he can stick to the talking point of six weeks ago which is 'You're a critic of the plan? Be quiet.'"
"Both sides are now in the realm of reality," New Yorker reporter Ryan Lizza said. "At least now you're in the realm of two sides looking at legitimate fixes for a flawed law."
Watch the clip below via CNN:
[Photo via screen grab ]
— —
> >Follow Noah Rothman (@NoahCRothman) on Twitter
Have a tip we should know? tips@mediaite.com