Bill Kristol On Fox News Sunday: Mitt Romney Should Release Tax Returns Tomorrow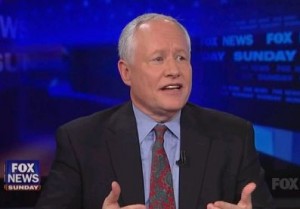 Bill Kristol advised Mitt Romney to err on the side of disclosure on Fox News Sunday today, recommending that the Republican presidential candidate release more tax returns, as well as coming up with a stronger defense of his time at Bain Capital. He said the Romney campaign should accept that they're going to get hit over the returns and then change the dynamic of the campaign with a big speech about capitalism.
RELATED: GOP Governor Calls For Romney To Release Tax Returns, Then Walks Back Remarks
Kristol marveled at how quickly Romney lept to say he wasn't running Bain after 1999 "as if there's something wrong with running Bain. He said Romney's stewardship of the company turned out "extremely successfully" and should take a more active defense of his business experience. Kristol also advised the Republican candidate to release more tax returns as soon as possible to get it over with quickly and move on.
"He should release the tax returns tomorrow. It's crazy, you've got to release 6, 8, 10 years of back tax returns. Take the hit for a day or two. Then give a serious speech on Thursday in which he says, 'Okay, we have this ridiculous picayune debate about when I took my leave from Bain and when I didn't. You can look now at my tax returns. Now let's have a debate about capitalism.'"
Fred Barnes said that Romney should only make a speech once his policies are "fleshed out more" and people have an idea of exactly what his agenda is. Juan Williams agreed with Kristol on the tax returns, but explained there could very well be something in them that does not look good for Romney and could seriously hurt his campaign, which would explain why they're being withheld in the first place.
Guest host Brit Hume said no one seriously believes at this point that Romney is a "tax cheat," and asked Williams what possibly damaging information could be in the returns. Williams said "not doing anything illegal" is a very low standard for someone who's trying to become the president. Kristol compared Romney's offshore accounts to Jeremiah Wright, saying they're both things the candidates have ties to that they would rather not talk about.
Watch the video below, courtesy of Fox News:
Have a tip we should know? tips@mediaite.com
Josh Feldman - Senior Editor