Bill Kristol Slams Democratic And GOP Posturing On Sequester: 'It's Just Pathetic'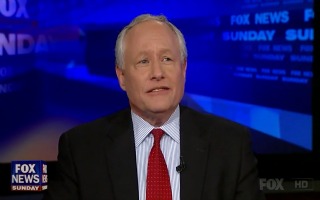 During a panel discussion on Fox News Sunday regarding the upcoming budget cuts in the sequester, The Weekly Standard editor Bill Kristol tore into both Congressional Republicans and Democrats, as well as President Barack Obama, for their disingenuous political posturing. He said that the cuts are irresponsible and will negatively impact America's ability to meet its present military commitments overseas. Kristol called both party's political posturing around the sequester "pathetic."

RELATED: Who Do You Trust On The Sequester? The President, Republicans or…Bob Woodward?
Fox News Sunday host Chris Wallace said that he received a call from an Obama administration official recently who was frustrated with what he called the "revisionist history" in a Washington Post article by Bob Woodward where the reporter identifies the White House as the original source for the idea of the sequester.
"Look, the White House proposed it originally, so the Democrats — The White House is being misleading recently when they denied that," Kristol said. "On the other hand, the majority of Republicans in Congress voted for it."
"They both accepted it as a trigger – as a, sort of, failsafe mechanism – it would be too horrible to contemplate, and now it's happening," Kristol continued. "It's just pathetic really that this is a political debate."
He went off on Republicans and Democrats for being unable to put aside political "sniping" with nearly two years to go before the next election. "The President of the United States does stupid campaign events with people – with emergency responders behind him as props," Kristol added. "The Republicans in the House sit around saying 'oh, hey, let it go in. We're tough guys.'"
"What about the military?" Kristol asked.
"We can't govern, so we've got to have an automatic pilot," agreed former Sen. Evan Bayh (D-IN).
Watch the clip below via Fox:
> >Follow Noah Rothman (@NoahCRothman) on Twitter
Have a tip we should know? tips@mediaite.com