Bill Maher And Andrew Sullivan Argue Against Hate Crime Laws, Defend Tyler Clementi's Roommate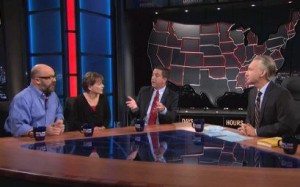 On tonight's episode of Real Time with Bill Maher, the host and gay columnist Andrew Sullivan spoke out strongly against hate crimes legislation, branding it as the government trying to regulate people's thoughts. Sullivan argued that in an ideal society based on the rule of law, a person should be judged on their actions, not their thoughts. Maher and Sullivan also agreed that the roommate of Tyler Clementi, the gay Rutgers student who committed suicide after said roommate pranked him, should not be charged with bias intimidation.
RELATED: Opponent Of Anti-Bullying Legislation: "Bad Things Happen To Everybody"
Fellow panelist Wendy Schiller disagreed with Maher and Sullivan's arguments, saying that "an inclination to hate causes destruction," and said that certain mental states may lead a person to commit a violent crime in the future. Sullivan shot back that people hate and resent other people for a number of reasons, including class resentment or personal animosity, and there are no hate crimes laws that encompass those mindsets.
On the other hand, Maher also brought up crimes of passion, where people tend to get lesser sentences because of their emotional state, and said that the law should just tell people it's not okay to kill someone no matter your personal emotional state. Sullivan made it clear that neither he nor Maher are "standing up for hate," but that they were trying to be intellectually consistent when it comes to defending the rights of all people, including homophobes.
"The right of a bigot to walk down the street is the same right of a drag queen to walk down the street. You attack it for one group, every group will suffer."
Maher shifted the discussion to Dharun Ravi, the roommate of Tyler Clemente, who was found guilty of all charges and may face 10 years in prison. Ravi did spy on Clemente, and Maher didn't doubt "he was a mean kid" but he said that Ravi shouldn't face that much jail time for being "mean." Sullivan agreed, saying that most people who are the subject of pranks that border on horrible don't end up committing suicide, and said that if everyone who's ever pulled a prank on someone and hurt them, whether homosexuality was an issue or not, "half the country would be locked up."
RELATED: Chris Cuomo Grills Tyler Clementi Roommate Dharun Ravi: Did You Frighten Him?
Schiller tried to argue that Ravi specifically targeted Clementi because he was gay, but Maher disputed that notion, calling him a "kid in a dorm" who did something stupid, and said that pushing for hate crimes legislation "gives liberals a bad name." Sullivan pointed out that Ravi vigorously denied that he was homophobic, and argued that the justice system was trying to decide what was inside his mind and his heart for him.
Watch the video below, courtesy of HBO:
Have a tip we should know? tips@mediaite.com
Josh Feldman - Senior Editor