Bill Maher And Chris Matthews Tear Apart Republicans Who Predicted A Romney Landslide
Maher And Matthews Tear Apart Republicans Who Predicted A Romney Landslide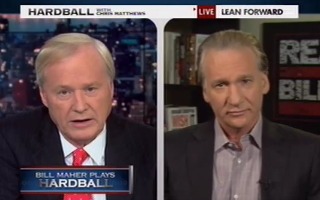 Comedian Bill Maher joined Chris Matthews on MSNBC to weigh in with his thoughts on what President Barack Obama's victory means for American politics. They mocked prominent Republicans who predicted a victory for Mitt Romney and criticized polling firms which measured a more Democratic electorate than they thought would show up at the polls on Tuesday.

"Maybe the only people more depressed than Republicans are comedians," Matthews noted, saying that the comedic potential from a Romney administration was significant.
Maher hit Karl Rove hard, saying that when the conservative analyst tried to get Fox News Channel to back off from their calling Ohio from Obama was the equivalent of living in "Hitler's bunker."
Maher also went after Republicans who criticized the state-level polling which consistently showed Romney significantly behind in the weeks leading up to Election Day, again appealing to a Nazi analogy.
Matthews played a clip of Dick Morris who also predicted that Romney would win. "These people have denied facts and math," said Maher.
Maher criticized the Republicans for their objection to health care reform, citing the United Nations which routinely ranks American health care behind other western nations. "Outside of the bubble there are facts," Maher continued. "I know they're not in the bible, but can't we use them sometimes?"
Matthews and Maher discussed Donald Trump's tweets from election night in which he called for "revolution."
"As soon as Obamacare really kicks in, they really need to get this man to a hospital," Maher said. "This guy is just a clown."
"It's almost as if your audience got to vote last night," Matthews said to Maher. "As if your view of the world was out there triumphantly."
Watch the clip below via MSNBC:
— —
> >Follow Noah Rothman (@Noah_C_Rothman) on Twitter
Have a tip we should know? tips@mediaite.com