Bill Maher and Conservative Guest Surprisingly Agree on Who's to Blame for Gaza Civilian Deaths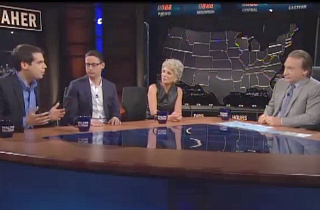 If you never thought you'd hear these words, you may want to prepare your fainting couch: During Friday's edition of HBO's Real Time, Bill Maher agreed with a senior editor from conservative website The Daily Caller. Not only that, but his audience applauded the conservative writer on multiple occasions.
While disagreeing on several other issues during the program, Daily Caller senior editor Jamie Weinstein and Maher found themselves in-sync over the justifications for the Israeli invasion of the Gaza Strip as well as who's to blame for the civilian deaths incurred by the Palestinians.
"I feel terrible for a Palestinian child who dies," Maher said, "but if it's your father, your brother, your uncle who's firing those rockets into Israel, who's fault is it really? Do you really expect the Israelis not to retaliate?" The audience cheered Maher's suggestion.
Weinstein agreed, noting that the Hamas charter explicitly calls for the destruction of all Jews. Fellow panelist Jane Harman chimed in to say she actually agreed with Charles Krauthammer's take that while Israel builds an "Iron Dome" to defend its citizens from missiles, Hamas uses its citizens to defend its missiles.
That line drew applause as well.
Maher went on to suggest that, out of necessity, Israel has become very good at defending itself, largely because of the Jewish expertise in science. "Jews have, I think, 155 Nobel Prizes, Muslims have two," he said. "That seems like kind of a big advantage for team Hebrew."
The surprising agreement continued again when Weinstein interjected that Israel continually has the public advantage because its government "believes in life." Their "Iron Dome" technology is explicitly designed to protect Israelis from missile threats, he said, while Palestinian leaders use their funds to build tunnels to attack Israel and hide weapons, "not protect their people."
More applause from the Maher audience. Like we're in an alt-universe, right?
While it may be somewhat baffling to see the famously liberal comedian agree with a conservative pundit on a hot topic like Israel, his views were made somewhat explicit in this controversial tweet from Thursday:
Dealing w/ Hamas is like dealing w/ a crazy woman who's trying to kill u – u can only hold her wrists so long before you have to slap her

— Bill Maher (@billmaher) July 18, 2014
Watch below, via HBO:
— —
>> Follow Andrew Kirell (@AndrewKirell) on Twitter
Have a tip we should know? tips@mediaite.com