Bill Maher And Eliot Spitzer Take On Fox News, Karl Rove, The GOP, And Holding Obama's Feet To The Fire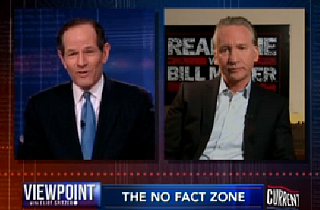 Appearing on Current TV's Viewpoint last night, HBO's Real Time host Bill Maher told Eliot Spitzer that while liberals can celebrate the re-election of President Barack Obama and the defeat of conservatives, now is the time for progressives to actually hold the president's feet to the fire on a variety of issues that have barely been addressed during the first Obama term.
Maher told Spitzer that "it was a pleasure to watch" Karl Rove's election night "meltdown" on Fox News. The two then engaged in a discussion over how the Republicans became "victim to their own nonsense," whether it be the comforting but inaccurate polling data or the "lies told on Fox News" about the party's electoral chances.
"They talked themselves into believing" Romney could win, Spitzer said.
Maher said that the Fox News audience needs a "reality check," and the best possible way to do that is experience a loss like this election cycle. He added that New Jersey Gov. Chris Christie is a "hopeful beacon" for the Republican Party, but on the other hand, there are the "panderers" like Mitt Romney.
The two then pivoted to a conversation about President Obama's "malleability" on a variety of issues, agreeing that now is the time to turn their fire towards the president:
The conservatives lost and now is the time for progressives. I mean you, I mean me, I mean everybody at MSNBC. We can obsess about every stupid thing that conservatives do, and they will keep doing stupid things, but really what we need to do, I think, is turn our attention to the president and hold his feet to the fire on those issues like getting out of Afghanistan, civil liberties, stopping the drug war, climate change — these are issues where he was not not able to do, I'm sure, as much as he wanted to do in the first term, but look, he has no more elections to run. If not now, when? This is the time.
Watch the interview below, via Current TV:

— —
>> Follow Andrew Kirell (@AndrewKirell) on Twitter
Have a tip we should know? tips@mediaite.com