Bill Maher And Keith Olbermann Yell At 'Typical Republican Voter' Encased In A Giant Bubble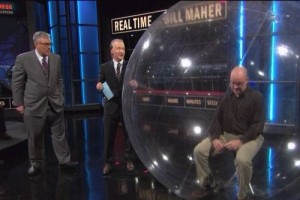 It was a New Rule that began with Bill Maher calling climate skeptics "climate assholes" and ending with him and Keith Olbermann yelling at the top of their lungs at a random white guy in a giant bubble. Before you ask if this was some kind of weird pseudo Seinfeld tribute, the white guy was supposed to represent the average Republican voter.
Maher began by talking about Al Gore's new Climate Reality Project, and made fun of the idea that anyone inside the Republican party would ever connect the words "climate" and "reality." He called out Rick Perry by name for his particular brand of denialism, and then suggested the media should refer to climate skeptics as "climate assholes."
Maher described GOP voters as "a thick shell of super-hardened bullshit" where the only thing that get enter is Fox News and the only things to come out are "misspelled signs and babies." He compared Republicans to domesticated animals.
"Trying to get today's Republican to accept basic facts is like trying to get your dog to take a pill. You have to give them the truth wrapped in a piece of baloney, hold their snouts shut, and stroke their throats. And then, just when you think they've swallowed it, they spit it out."
To Maher, the idea of a channel devoted to "reality" 24 hours a day is peculiar because "half the country doesn't believe in reality." And then, Maher introduced a "typical Republican voter" to the audience, a middle-class white man surrounded by a giant bubble. Olbermann was invited to join in the festivities. And by festivities, I mean "Maher and Olbermann shouting random factoids about the economy at a guy sitting in a bubble."
First of all, the casual media observer may recall that Al Gore is technically Keith Olbermann's boss, since he owns Current TV. So Olbermann's inclusion in a New Rule inspired by a new project of Gore's is odd, if nothing else.
But even more odd was the whole skit, which really didn't liven up until Olbermann did a Foghorn Leghorn impression and a minute later when he randomly shouted, "Wrestling is fake!" I'm not sure if analyzing this bit should be the duty of media watchdogs or art critics. The whole thing felt insanely surreal.
Watch the video below, courtesy of HBO:
Have a tip we should know? tips@mediaite.com
Josh Feldman - Senior Editor