Bill Maher and Michael Moore Defend Tony Bennett's Controversial 9/11 Comments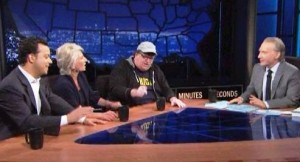 On his show tonight, Bill Maher defended Tony Bennett's controversial remarks about how United States foreign policy was a factor in causing the 9/11 attacks (remarks that Bennett immediately apologized for). Maher and panelist Michael Moore drew from their own experiences being attacked by conservatives to empathize with the legendary crooner.
John Avlon argued that Bennett's comments were offensive, saying the only people responsible for 9/11 were Osama bin Laden and the hijackers, and to suggest otherwise is "bullshit." Moore said he was not offended by Bennett's statements, and actually agreed with the sentiment behind them. He compared U.S. foreign policy to a pitbull owner who hits his dog repeatedly and is then surprised when the pitbull bites him.
Former congresswoman Jane Harman defended Bennett's right to free speech, but insisted that people who were directly affected by the 9/11 attacks would be understandably upset by his statements. Maher thought the debate in this country over the issue needed to become "an adult discussion," and was quick to explain that remarks like Bennett's have nothing to do with the individual victims of 9/11.
"Nobody is saying that those specific people who died had it coming. No one is saying that. That's how it becomes interpreted. What we're saying is that the United States has almost half a million troops in over 150 countries around the world. That is an empire. If you want to have an empire, and this country by its acquiescence of that fact certainly does, if you want to have that big a footprint, yes, there is going to be some kind of blowback."
Moore focused on the "hate speech" thrown at Bennett from right-wing radio and recalled the blowback from his now-infamous comments about the Iraq War at the Oscars. He almost got into a shouting match with Avlon over the particular motives of the individual terrorists who attacked the U.S. ten year ago.
Then Maher brought singer/activist Tom Morello onto the panel to offer up his thoughts on the subject. He went back to the free speech issue, specifically citing all the songs that were banned from being played on the radio in the immediate aftermath of 9/11, including the complete expulsion of any songs from Rage Against the Machine (Morello's band).
Then, like Moore, Maher recalled his own 9/11 controversy, and asked aloud how he got fired for his comments when Howard Stern's "let's drop a bomb on a Muslim country" remark resulted in very little outrage.
Watch the video here, courtesy of HBO:
Have a tip we should know? tips@mediaite.com
Josh Feldman - Senior Editor