Bill Maher and Others Falsely Claim Sarah Palin Said Soviets 'Won the Space Race'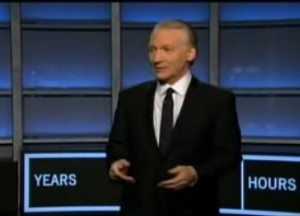 During Wednesday night's On the Record with Greta Van Susteren, former Alaska Governor Sarah Palin delivered a nonsensical rebuttal to President Obama's State of the Union address that has been a topic of conversation on cable news all week. While there are legitimate reasons to mock Palin's response, the claim that she said the Soviet Union "won the space race," repeated again on Friday night's Real Time with Bill Maher, just isn't true. The sentence to which her critics refer might have been the only thing Palin  got right, but get it right, she did.

I've heard the claim that Palin said the Soviets "won the Space Race" all week, on Hardball and elsewhere, but most recently, during Bill Maher's Real Time monologue: (from HBO)
Palin's response to the SOTU was riddled with more holes than the climax to Sonny Corleone Meets Bonnie and Clyde, from her claim that President Obama was celebrating the launch of Sputnik 1 as something to which Americans should aspire, to her contention that the Sputnik 1 launch led to the collapse of the Soviet Union (as every good Republican knows, it was actually Ronald Reagan), finishing with her call for a "Spudnut moment" that urged America to follow the example of the remnant of a failed doughnut franchise operation. In case you missed it, here's the clip: (from Fox News)
What she didn't do was claim that the Soviets "won the space race." Here's the transcript of the exchange, with the key phrase bolded:
VAN SUSTEREN: Former Alaska governor Sarah Palin is still with us. And Governor, last night there was a lot of discussion about the Sputnik moment that the president talked about. Do you agree with him? Do you — and is this our moment?

PALIN: That was another one of those WTF moments, when he so often repeated this Sputnik moment that he would aspire Americans to celebrate. And he needs to remember that what happened back then with the former communist USSR and their victory in that race to space, yes, they won, but they also incurred so much debt at the time that it resulted in the inevitable collapse of the Soviet Union.

So I listened to that Sputnik moment talk over and over again, and I think, No, we don't need one of those. You know what we need is a "spudnut" moment. And here's where I'm going with this, Greta. And you're a good one because you're one of those reporters who actually gets out there in the communities, find these hard-working people and find solutions to the problems that Americans face.

Well, the spudnut shop in Richland, Washington — it's a bakery, it's a little coffee shop that's so successful, 60-some years, generation to generation, a family-owned business not looking for government to bail them out and to make their decisions for them. It's just hard-working, patriotic Americans in this shop.

We need more spudnut moments in America. And I wish that President Obama would understand, in that heartland of America, what it is that really results in the solutions that we need to get this economy back on the right track. It's a shop like that.
When Palin says "their victory in that race to space," she's clearly referring to the specific milestone of launching an artificial satellite into Earth orbit, as opposed to the larger "Space Race" that it precipitated. It was that victory by the Soviets that awakened the United States into unleashing the wave of innovation that led to the moon landing (and beyond), much as President Obama hopes to spur innovation now by pointing out areas where the US has fallen behind.
Interestingly, Palin's "Spudnuts" metaphor does have a tangential connection to Sputnik 1, beyond the name. While the story of Spudnuts is much more illustrative of the pitfalls of big business, rather than big government, the Richland, Washington Spudnuts Shop that Palin loves so much owes its existence to big government spending that was fueled by the same Cold War which fueled Sputnik.
The town of Richland, Washington expanded from a farming community of 300 people to a community of 25,000 by the end of World War II, housing workers for the government's Manhattan Project facility at the nearby Hanford Engineering Works. After the war, the Hanford Workers Camp was closed down, but a Cold War construction boom reinvigorated the city, and led to the construction of a highway that allowed the Richland Spudnuts Shop to expand, from a wholesale-only business, into the successful retail shop it is today.
In any case, Palin didn't bother to explain how Spudnuts are supposed to save America. Are we to build a mess of doughnut shops now, and see how many are left in 60 years? Or are we to sprout more thriving communities from huge government spending programs, and have people spend that money at successful small businesses in those communities? Sounds like a Donnie and Marie plan ("I'm a little bit socialist, and I'm a little bit capitalist!") that might even track a little to the left of Obama.
Only Palin knows, for sure, what she was suggesting, but it's unfair to claim that she said the Soviets "won the Space Race."
This is an opinion piece. The views expressed in this article are those of just the author.