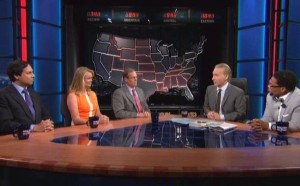 On his show tonight, Bill Maher took on the controversial comments on rape made earlier this week by Republican congressman Todd Akin. Guest panelist Jack Kingston, one of Akin's Republican colleagues in Congress, roundly criticized Akin for his medically ignorant remarks, but Maher argued that Akin's comments are not just an isolated incident, but part of a larger trend on the social values of the Republican party.
RELATED: Mike Huckabee Slams The GOP For Their Unfair Treatment Of Todd Akin
Maher mocked Akin's "mystical spermicide theory," and argued that his comments are just the latest example of a Republican party that does not like single women having sex. He pointed to the Sandra Fluke controversy and Rick Santorum strongly speaking out against contraception during the Republican primary campaign.
Kingston argued that many prominent Republicans immediately condemned Akin, with vice presidential candidate Paul Ryan going so far as to personally call Akin and telling him to drop out. D.L. Hughley rebutted Kingston by saying the only reason the Republicans want Akin out of the race is so they can get another candidate who has a better chance of winning the Senate race.
Maher said that Akin's comments have not been the first of its kind in the Republican party, claiming that "there is a long list of people who have said this before." He added that he hasn't seen any Republicans specifically rebutting Akin's "mystical spermicide" theory in their condemnation of him. Kingston said that Akin's big mistake was trying to speak to talk about medical issues.
Maher pointed out that Ryan pushed for "forcible rape" language in Congress, and contradicted that when he said this week, "rape is rape." He also pointed out that Ryan has a higher rating from a pro-life organization than Akin does.
Watch the video below, courtesy of HBO:
—–
Follow Josh Feldman on Twitter: @feldmaniac
Have a tip we should know? tips@mediaite.com
Josh Feldman - Senior Editor