Bill Maher And Panel Trash Debates, Challenge Michael Steele Over GOP Logic On Abortion
Maher And Panel Trash Debates, Challenge Michael Steele Over GOP Logic On Abortion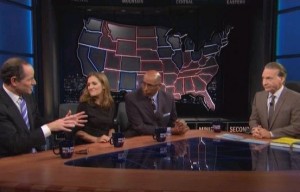 Bill Maher opened the panel discussion on his show tonight panning all of the debates between President Obama and Mitt Romney, saying the moderators should have been more assertive and challenging. He also brought up comments by Republican Senate candidate Richard Mourdock on rape and abortion, questioning the religious logic of conservatives who believe God planned the pregnancy, but not the rape that made women pregnant in the first place.
RELATED: Maher Bashes Both Candidates On Twitter: 'I've Seen Wider Ideological Differences Between Jehovah's Witnesses'
Maher said without question that the debates "suck," calling the moderators "okay" at best. Chrystia Freeland argued that the debates are significant and said the first debate may be enough for Obama to lose next month. Michael Steele acknowledged there is a "level of filtering" that goes on during the debates, with him and Maher agreeing that neither candidate was that challenged on their positions. Eliot Spitzer said debates should be more like a "cross-examination in a courtroom."
Maher noticed that Romney seemed to be positioning himself as women's "gay best friend" in order to appeal more to that demographic, and brought up Romney's support of Mourdock. Spitzer said Romney has made a "Faustian bargain" with conservatives while trying to make the general public think he is a moderate. Spitzer and Steele agreed that Romney should withdraw the endorsement.
Maher brought up the religious angle of what Mourdock said, namely that the pregnancy following the rape is a gift from God, and asked why the pregnancy was part of God's plan but the rape was not. Steele pushed back against Maher trying to make a more general attack on religion, saying that he shouldn't lump people like Moudock in with the millions of religious individuals who do not believe the same thing they do.
Freeland also questioned the logic of making an exception in the case of rape and incest. She asked that if an individual legitimately believes that abortion is wrong because it is essentially murdering unborn children, they why does it suddenly become okay when the method of pregnancy becomes a morally repugnant one?
Spitzer went right back to criticizing Romney for flip-flopping on the issue, to which Maher quipped, "Picasso could not portray all the sides" Romney has taken on abortion.
Watch the video below, courtesy of HBO:
—–
Follow Josh Feldman on Twitter: @feldmaniac
Have a tip we should know? tips@mediaite.com
Josh Feldman - Senior Editor