Bill Maher To Anthony Weiner: If You're Going To Have A Sex Scandal, "At Least Get Laid"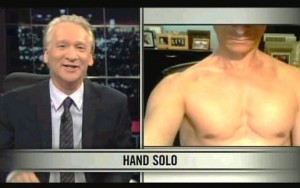 Because you haven't been hearing enough about Rep. Anthony Weiner and the penis belonging to said congressman lately, Bill Maher closed tonight's Real Time by offering some unsolicited (we think) advice to Weiner. Maher's main point: for someone who's been publicly disgraced to the point plenty of people think he should just resign, Weiner didn't get much out of this scandal, did he?
Specifically, of course, Weiner didn't get sex (to our knowledge). And an exasperated Maher urged Weiner that if he's going to bring the scrutiny and embarrassment on himself he brought…"at least get laid." And while the segment threatened to completely devolve into frat-bro territory when Maher talked about John Edwards and Bill Clinton "bang[ing] butterfaces," we do approve of the nickname "Congressman ShinyTits69."
And Maher wasn't done – in a different twist on the unending "Weiner" puns popping up throughout this story (for good reason, we might add), he said the congressman's "name shouldn't even be Weiner…weiners are for closers." He also tweaked Weiner for saying everyone he corresponded with was an adult, "to the best of [his] knowledge." And of all the ways to endorse masturbation, we can't say we ever pictured this line aiding the cause:
"Say what you want about a box of Kleenex and the July Playboy, but when you finish it doesn't call Andrew Breitbart."
Right on. And if you had any doubt as to Maher's thoughts on the actual controversy at hand, he called it "a new low in what passes for a sex scandal." Then again, if Weiner actually had gotten laid like Maher urged, we wouldn't be surprised if photos of that were out there, so maybe we ought to thank him.
Video below, via HBO.
Have a tip we should know? tips@mediaite.com