Bill Maher Attacks Liam Neeson for 'Going Out of His Way to Champion Animal Abuse'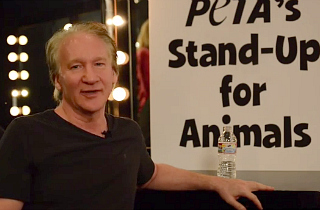 HBO's Real Time host Bill Maher is no longer a fan of actor Liam Neeson. In a new video posted Wednesday by People for the Ethical Treatment of Animals (PETA), Maher railed against Neeson's support for New York City's controversial horse carriage business.
"My life-long Liam Neeson fandom has ended, I can't stand to look at him," Maher said. "Why a guy would go out of his way to champion animal abuse, I have no idea."
He added that it's perfectly fine to be okay with the horse carriage business, but you should "just shut up" about it. "I just don't get making that your cause," he said.
Maher claimed that his feelings on the horse carriage business are so strong he once had to move hotels to be further away from the part of Manhattan where they tend to idle. "I used to stay on Central Park and I would smell the horse shit and be constantly aware of this abuse going on and it bothered me and I had to move the hotel to some place where I wasn't thinking about it all the time," he explained.
"If anyone has ever seen a horse run wild, even in movies or whatever, you know that's the furthest from the way these animal should be," he concluded. "I mean they have a wonderful spirit and to get them to do that job, you have to completely break it."
Watch below, via PETA:
— —
>> Follow Andrew Kirell (@AndrewKirell) on Twitter
Have a tip we should know? [email protected]