Bill Maher Blasts 'Bimbo' Rick Perry's Christmas Law, Says Bible-Thumpers Are 'Terrified' Of Atheists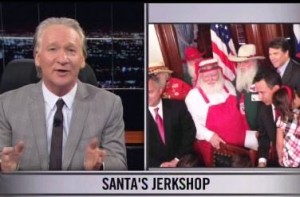 Bill Maher used his last New Rule of the night to single out Texas governor Rick Perry for signing into law a proposal that would protect Christmas even though it was in no danger to begin with. Maher pleaded, "Can't we wait to do this until Christmas season really starts–on the last day of summer?" He tore into the "bimbo" governor for supporting something so pointless, and told viewers that religious people don't fear other religious people, they fear non-believers.
RELATED: Maher's New Rule: Atheism And Religion Are 'Not Two Sides Of The Same Coin'
Maher said that between Republicans talking about masturbating fetuses and Sarah Palin rejoining Fox News, "this kind of was Christmas in June." But Texas took that to the extreme, passing a law that would make sure that no one would be punished for saying the phrase "Christmas tree" in a public school, even though that never happens.
Maher mocked the comments Perry made at the bill's signing, likening him to a "bimbo" and Miss Utah. Maher noted how Perry was flanked by six santas and a rabbi, because in America, "it doesn't matter what you worship, as long as you worship somebody." He argued that religious people don't truly fear other religious people, but they do fear atheists.
Maher brought up how Hillary Clinton was bizarrely criticized for not identifying her faith in her Twitter bio, and asked why it would be a good thing if she did. "Faith means the purposeful suspension of critical thinking," Maher said. "It's nothing to be admired."
But what religious people truly fear, Maher explained, is not just that atheists exist, it's that they're actually nice people who aren't waging wars against Christmas. Maher said as an atheist he also loves Christmas, and the idea of "a nice man who sees me when I'm sleeping and knows when I'm awake. And that man's name is Barack Obama."
Watch the video below, via HBO:
—–
Follow Josh Feldman on Twitter: @feldmaniac
Have a tip we should know? tips@mediaite.com
Josh Feldman - Senior Editor