Bill Maher Blasts GOP On Handling Natural Disasters, Says Dems Have Been Better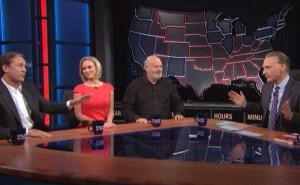 Bill Maher immediately opened his panel discussion tonight by discussing the politics of the Hurricane Sandy relief and how well President Obama has been handling it. Maher argued that FEMA has run more efficiently under Obama and Bill Clinton than under George W. Bush and his father, making the case that Democratic presidents have been better at handling natural disasters than Republican ones.
RELATED: Brian Williams Eviscerates Limbaugh And Former FEMA Director 'Brownie' For Their Post-Sandy Reactions
Maher said that overall this week was a good one for Obama, making the political comparison clear when he said "We saw Republican administrations be bad with hurricanes, now we saw a competent one with a Democrat." Rob Reiner said it represents a difference in the way Republicans and Democrats view the role of government, and observed that "Romney looks like a fool right now" for opposing FEMA.
Lazio tried to push back against Maher's thesis, claiming there have been unsuccessful attempts to handle natural disasters under both Republican and Democratic presidents. Maher immediately shot back by making the case that Democratic administrations have been better on dealing with natural disasters.
"Let's not play that fake fairness game… Under Bush the first, FEMA sucked because it was a patronage mill. Under his son, it sucked. In between, it was good under Clinton, and now it's good under Obama. People who like government run it better."
Lazio tried to challenge Maher again, but Maher insisted on the presidential level, "there is a pattern" that favors the way Democrats have run FEMA and handled natural disasters. Maher said that Romney was trying to win over the states' rights crowd when he came out strongly against FEMA. He added that privatization would not be ideal, because "when it's about life and death, you do not want private industry, which has shown time and again they will put profit over human life."
Margaret Hoover said that Obama doesn't necessarily deserve so much credit for hurricane relief efforts, touting state and local officials who are better suited to decide where funds need to go in their states. Reiner shot back by saying that the funds need to come from the federal government, and Maher quipped that hurricanes often have a tendency to cross state lines.
Watch the video below, courtesy of HBO:
—–
Follow Josh Feldman on Twitter: @feldmaniac
Have a tip we should know? tips@mediaite.com
Josh Feldman - Senior Editor