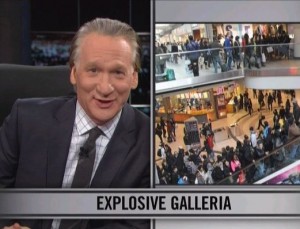 In his final New Rule of the night, Bill Maher argued against the conventional wisdom that the economy is in a really bad place, saying that the economy is actually better than all the fearmongering would otherwise suggest. Maher acknowledged it's a game played by both Republicans and Democrats, even President Obama himself, but said that politicians need to start being honest about the economy and not perpetuating the idea that it is a "complete shambles."
RELATED: Bill Maher Trashes Undecided Voters: 'Ignorant Jackasses Bullsh*tting About The Election'
Maher opened the New Rule by saying that in order to help Obama make an effective argument that the country is improving, the next presidential debate should be held in a mall. Maher said that for the most part, society is doing fine, and the people sleeping on the sidewalks are just in line for new iPhones.
Contrary to what many Republicans would argue, Maher contended that "it just doesn't feel like Obama has ruined America." He touted the Dow Jones doubling under Obama, which he said the GOP considers "devastating economic news." Maher wondered why the Republican party is so concerned with the economy being a "rotting compost heap" when, as he put it, many of them don't care about the middle class to begin with.
Maher acknowledged that Obama has to keep acting like the economy is doing horribly because he does not want to appear out of touch. However, he bucked conventional wisdom to insist that "we can keep blaming Bush" for the economy, saying that just because people are sick of hearing it doesn't make it untrue.
Maher summed up Mitt Romney's pitch to voters thusly: "I'm going to fix the economy by restoring the policies of the party that destroyed it."
Watch the video below, courtesy of HBO:
Have a tip we should know? tips@mediaite.com
Josh Feldman - Senior Editor