Bill Maher Openly, Proudly Equates Casey Anthony Verdict With 'Republican Thinking'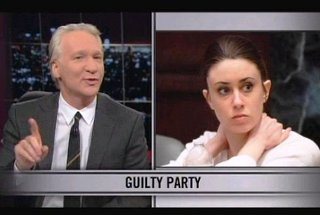 It's no secret that Bill Maher isn't a fan of Republican policies on…pretty much anything. Tonight, he took aim at the party's economic thinking, and to illustrate what he saw as the absurdity of it, drew a parallel many might find more than a bit absurd themselves: he compared it to the Casey Anthony trial. Here's how he tried to pull that one off:
"If you can look at a crime where everything points to one answer and not see it, you're a dumbass. And if you can look at the deficit and not see that the problem is that the rich stopped paying taxes, you're a Republican."
Leaving aside that many people might tell you the Casey Anthony jurors indeed "saw" what everyone else did and simply thought there was just enough reasonable doubt that they couldn't convict her, this is a pretty normal Maher diatribe. The idea that: 1) the rich are blowing the middle class out of the water, and 2) not enough is being done about it, isn't new ground for him. (If anything, what made this round of insults aimed at the GOP more entertaining was Maher's gleeful banter with Ann Coulter.)
After the initial line, Maher's monologue had little to do with the Anthony trial – just as well, since the comparison seemed forced to begin with. And Maher wasn't just attacking the "moneyed elite" – he also blamed the base that helps them win and retain power, as well as the phrase "job creators." And though we weren't the biggest fans of the Casey Anthony comparison ourselves, he stuck with it to the end:
"Yes, Republican base, you are just like that jury. It is pathetically clear who's killing the middle class, but you keep letting them get away with murder."
Increasing taxes on the rich isn't exactly a radical idea…but Maher sure knows how to make something sound radical, doesn't he? Video below, via HBO.
Have a tip we should know? tips@mediaite.com