Bill Maher Connects 'Unrealized Adolescent Sexuality' to Mass Shootings, Muslim Extremism
During the latter half of his "New Rules" segment, Real Time host Bill Maher made a rather (un)surprising connection between America's hyper-exualized media, mass shootings and Muslim extremism.
Maher's interview with Bernie Sanders, as well as his subsequent discussion about the popular perception of socialism, made for good television. But let's be honest, folks — you need sex and violence. Hence why the comedian turned political commentator decided to address a striking similarity shared by the recent Oregon shooter, other mass shooters in the United States, and — per his penchant for stereotypes — terrorists who happen to be Muslim.
"As the details emerge about our latest American massacre this month at an Oregon college," said Maher, "the least surprising thing was that the shooter wrote a manifesto and said he was going to die girlfriendless and a virgin."
Maher continued: "This is a pattern no one is talking about. Mass killers are almost always male and almost always women-repellent. And what must make it even worse for them is America."
Wait, what? How the hell would living in the U.S. make things worse for the countless number of mass shooters who, as it turns out, are most often males whose love lives aren't all that exiting?
"If you live in America, it just looks like everyone is getting laid all the time," explained Maher. Cue the Real Time host's "blame the media" charade, during which he mentioned everything from ridiculously pornographic advertisements to television sitcoms rife with euphemistic jokes.
Unsurprisingly, Maher turned the tables toward the very end of the segment when he brought in how this all relates to purported Muslim extremists: "If you think young men in America are throbbing angrily, what would you estimate the sexual frustration level to be for a young man who grows up only ever seeing women who look like this?"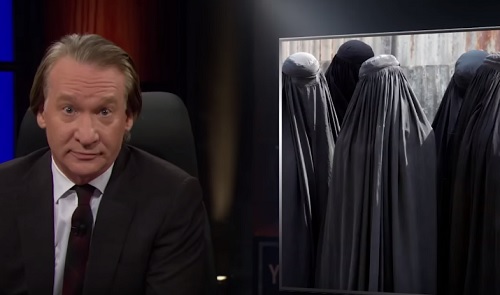 Check out the clip above, via HBO.
[Image via screengrab]
— —
>> Follow Andrew Husband (@AndrewHusband) on Twitter
Have a tip we should know? tips@mediaite.com