Bill Maher Defends Iraq War, Bush: 'It's A Country That's Standing, I Thought It Wouldn't Be'
Maher Defends Iraq War, Bush: 'It's A Country That's Standing, I Thought It Wouldn't Be'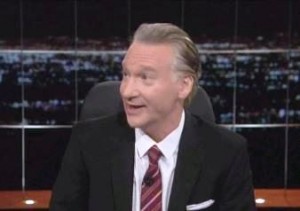 During a panel discussion on the Iraq war tonight, Bill Maher had a somewhat surprising take on the Iraq War almost ten years to the day before it began. Maher made it clear the cost of invading was more negative than positive, but asked the panel if there was some value gained by going in, because he admitted that in spite of originally thinking that Iraq would not be standing ten years down the road, "it's actually doing better than I thought it would be."
Rachel Maddow noted how Mitt Romney spoke of the Iraqi liberation in his CPAC address, saying that the GOP is still convinced the war was a good idea. Maher jumped in to argue that ten years down the road might not be the best way to judge the ultimate end result of the Iraq war, and admitted that he's impressed with where the country is right now.
"If you looked at America in 1786, didn't look that great, right? And I also must say, I've got to admit, it's a country that's standing. I thought it wouldn't be. It's actually doing better than I thought it would be. Is it a great country? No. Does it have a lot of problems? Yes. But there actually is a country standing there."
Maddow pointed out that one consequence of where Iraq is right now is the growing influence of Iran. Jared Bernstein told Maher that it's hard to reflect back on success when the parameters for success were never clearly defined at the outset.
Maher highlighted a statement from Jeb Bush that history will probably be kind to his brother's administration, with Davis noting the same happened to Harry Truman years after his presidency. Maher did give the former president some credit by saying that in contrast to some of the more hawkish members of administration who have never stopped being gung-ho about the war, Bush "really did go quietly to his room and think about what he did."
Maddow said it has been a big political failure of the United States that the nation was so easily taken to war on the basis of a lie.
Watch the video below via HBO:
—–
Follow Josh Feldman on Twitter: @feldmaniac
Have a tip we should know? tips@mediaite.com
Josh Feldman - Senior Editor