Bill Maher Defends Limbaugh's Free Speech Rights, Responds To 'False Equivalency' From Right
Maher Defends Limbaugh's Free Speech Rights, Responds To 'False Equivalency' From Right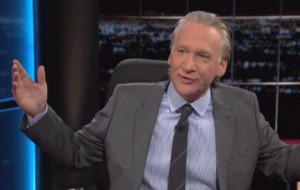 After over a week of pundits piling on Bill Maher for his remarks about conservative women in an attempt to equivocate him with Rush Limbaugh and suggest a media double standard on such controversies, Maher finally responded on his show tonight. Maher first slammed liberals for piling on him when he was defending Limbaugh from public pressure, before ripping into conservatives for pushing a "false equivalency" between him and the radio host.
RELATED: Bill Maher Stands Up For Rush Limbaugh, Decries Advertiser Intimidation
Maher first joked that he couldn't believe he was in the news this week, before guest Michael Steele brought up his 1 million dollar donation to a Super PAC supporting President Obama. As for the liberal criticism he's been getting this week, Maher said that given a similar situation he faced ten years ago when advertisers pulled from Politically Incorrect, he has more sympathy for Limbaugh's situation than most.
"I don't like it that people are made to disappear when they say something, or people try to make them disappear when they say something you don't like. That's America. Sometimes you're made to feel uncomfortable, okay?"
He said that all Limbaugh was guilty of was making an unfunny joke with a "disgusting sentiment" behind it. Maher clarified that he is in no way defending Limbaugh, but he is defending the idea of speaking out however one chooses in the public sphere as opposed to everyone just acting like "White House spokesmen." And Maher even cited a statement from the ACLU, of all people, standing up for Limbaugh's free speech.
"And I hear people saying when they put pressure on his sponsors, 'Oh, the system is working.' No, it's not. That's the system being manipulated."
Then Maher turned to the media focus on him this week from conservatives. He said that whenever someone on the conservative side like Limbaugh gets called out for offensive remarks, Maher is the go-to rebuttal for many people itching to call out a media double standard. Maher acknowledged that he is a "pottymouth," but not a misogynist. And he also offered up an apology to any women who may have been offended by his past remarks, though he did qualify it by wondering why women would want to ally themselves with Sarah Palin to begin with.
RELATED: Palin To Hannity: Obama Isn't 'Man Of Valor,' No Surprise He'd Take Maher's 'Dirty Money'
Maher then turned to something which he believed to be more misogynistic than anything he's ever said: a law currently going through the Arizona legislature that allows doctors to lie to women if it helps prevent an abortion.
Watch the video below, courtesy of HBO:
Have a tip we should know? tips@mediaite.com
Josh Feldman - Senior Editor