Bill Maher Defends Ron Paul: '[He Is] In My Heart On Foreign Affairs, Not Barack Obama'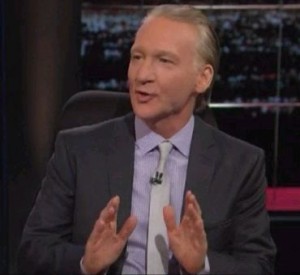 It's no secret that Republican candidate Ron Paul is a favorite among liberal talk show hosts, but tonight Bill Maher vigorously defended the libertarian's foreign policy positions and admitted they were more aligned with his own rather than President Obama. Maher fought with not just the panelists, but his own audience on this issue, dismissing most of them as "brainwashed liberals" unwilling to give Paul credit for taking a more progressive position on foreign issues than the president.
RELATED: Bill Maher To Panel: Are Liberals Having 'Buyer's Remorse' About Obama?
Maher admitted that Paul is the only Republican candidate who can get him to "rise out of my chair and applaud." And while panelist Rob Reiner quipped this was only because of Paul's position on drugs, Maher declared himself a supporter of Ron Paul's views on foreign policy.
"One of the things he says is, 'We've got an empire. And we should bring all the troops home.' He's the one who is, really, in my heart on foreign affairs, not Barack Obama."
When Reiner noted that Maher's sentiments only got him a "smattering of applause" from the audience, Maher responded by stating that it was because most of them are "brainwashed liberals." This was met by a mixed reaction from the crowd, including an aside from Reiner that this is the kind of audience Maher attracts.
David Frum noted that many liberals are still opposed to Paul because of his views on the social safety net, but others like Maher are willing to overlook that because he is the only candidate in the race that doesn't have a hawkish foreign policy position. Frum, however, gave credit to Rick Santorum, of all people, citing his willingness to talk about the middle class and upward mobility. He asked why Santorum gets no love from liberals for being more aligned with them on those issues despite his strong social conservatism as opposed to the love Paul gets despite being just as radical as his rivals (if not more so) on abolishing government agencies and other key issues.
RELATED: Ron Paul To Morning Joe: America's Next Occupation Is In Pakistan And 'I Fear It'
Maher acknowledged that Santorum was the only candidate talking about upward mobility, but on other economic issues he's still aligned with the rest of his party. Frum tried to argue that starting a dialogue was the best way to start coming up with policy solutions, but Debbie Wasserman-Schultz noted that "just because you say the word 'middle-class' doesn't mean you're for the middle class."
Watch the video below, courtesy of HBO:

Have a tip we should know? tips@mediaite.com
Josh Feldman - Senior Editor