Bill Maher Demolishes 'Pop Reference From The 80s' Trump Over 'Frivolous' Lawsuit On Conan
Bill Maher Demolishes 'Pop Reference From The 80s' Trump Over Lawsuit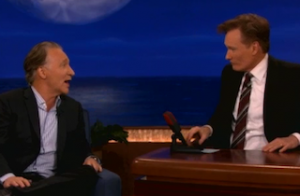 For the first time since his epic New Rule from last week's Real Time about Donald Trump's $5 million lawsuit, Bill Maher discussed the ongoing saga with Conan O'Brien Tuesday night.
"You had to know we were going to talk about this," O'Brien began, because "Trump and I are friends," he joked. O'Brien explained the situation for his audience, which all started when Maher made a joke about Trump being the spawn of an orangutan on Jay Leno's show.
"He thinks a joke on a late night talk show is a binding legal agreement," Maher said of Trump. "And in the world of late night comedy, there are no binding agreements. You of all people should know this," Maher added, referring to O'Brien's rocky late night experiences.
Moving on, Maher added about Trump, "He's not even a real person. It's just like a pop reference from the 80's. It's like having a spat with J.R. Ewing." He continued, saying "he tweets about me constantly." Just this morning, Trump asked his 2 million followers the following question:

But the larger issue, as Maher explained, is that Trump shouldn't be encouraging "frivolous lawsuits" that "clog up the courts." Asked if he thinks Trump is actually serious about the suit, Maher responded, "How do I know what's in this man's head? It's like you took Lenny from 'Of Mice and Men' and made him a billionaire."
While Maher thought O'Brien should be concerned about the outcome of his situation because if Trump wins it will mean whatever people say on late night talk shows could be binding, O'Brien was confident that he's way too much of a "man-child" for anyone to take him seriously.
Watch video below, via Team Coco:
—
>> Follow Matt Wilstein (@TheMattWilstein) on Twitter
Have a tip we should know? tips@mediaite.com