Bill Maher Not Outraged Over Marine Urination Scandal: 'If They Were Real Taliban… I'm Not That Upset'
Maher Not Outraged Over Marine Urination Scandal: 'If They Were Real Taliban...'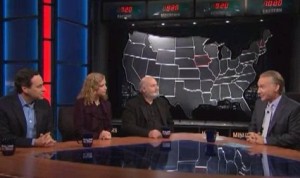 The blogosphere has been ablaze today over a video that has emerged of several U.S. Marines urinating on the corpses of Taliban fighters. It has been both condemned and defended, but on Real Time tonight, Bill Maher partially defended what the Marines did. While he dubbed the scandal "Urinationgate" and joked that peeing should only take place "in the privacy of R. Kelly's home," he thought the outrage was disproportional.
RELATED: Military Investigating Video That Appears To Show U.S. Marines Urinating On Corpses
As a matter of perspective, Maher argued that a couple of soldiers peeing on members of the Taliban did not necessarily rank in the top 10 offenses the United States has committed in times of war. Rob Reiner acknowledged he did not condone their actions either, but admitted that "war does make people a little crazy" and "these are the kind of things that happen during war."
When Reiner brought up the Abu Ghraib scandal, Maher stated that was more of a "premeditated" situation, and the current scandal was more like, to put it in sports parlance, an "end-zone game." DNC Chairwoman Debbie Wasserman-Schultz outright condemned their actions as "unacceptable in any way, shape, or form." Reiner insisted that war is ugly, and while actions like these are deplorable, they should not be unexpected, and we should not be so surprised and shocked when news of it emerges.
Maher again asked for perspective on the issue, reminding the audience these were not innocents who got pissed on, but members of the Taliban.
"It would depend upon what the people they were pissing on did. If they were real Taliban, if they were people who burned down girls' schools, and, you know, do honor rapes and throw acid in people's faces, I'm not that upset about pissing on them."
Maher appears to be echoing similar sentiments to Dana Loesch, who earlier today said she didn't understand why the video was so controversial, adding "I'd drop trou and do it too." In her later remarks defending her statements, she said the same thing Maher did tonight, namely that "it's absurd to desecrate corpses but it's not wrong to hate terrorists who are trying to kill our troops–and us."
RELATED: 'Tea Party Person' Dana Loesch Throws 'Teabagger' Back in Bill Maher's Face
Watch the video below, courtesy of HBO:
Have a tip we should know? tips@mediaite.com
Josh Feldman - Senior Editor