Bill Maher Explains He Never Joked About 'Hot' 'Religious Nut' Elisabeth Hasselbeck Being Raped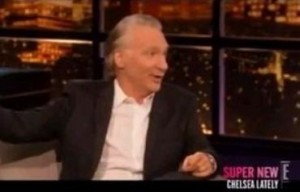 HBO's Bill Maher paid a little visit to E!'s Chelsea Lately, where he revisited a certain pesky little story that has been following him around for nearly a year now. Maher told host Chelsea Handler that his February 2011 joke involving The View's Elisabeth Hasselbeck and CBS' Lara Logan had not been in reference to the sexual violence Logan endured while covering the uprising in Egypt. Maher, for those who don't remember, joked that the U.S. should trade Hasselbeck for Logan, who had been captured the day before.
RELATED: Elizabeth Hasselbeck Confronts Bill Maher Over Joke In Uncomfortable View Segment
"I mean, look, I like Elisabeth Hasselbeck," said Maher, much to this one blogger's surprise, "I think she's a, you know… I think she got her facts wrong. And… [audience laughter] She did. Accused me of something I never did."
Maher then explained to Handler that Hasselbeck had conflated two different things: "We made a joke about her and Lara Logan, but it was well before we found out that Lara Logan was captured and abused. So she tried to make it sound like I did it after, which I wouldn't have done."
NewsBusters, in fact, points to a Wall Street Journal blog post recounting that Maher made his joke on February 4, 2011, and that Logan's attack occurred on February 11.
"Why didn't you just say that when you there [on The View]?" asked Handler. "You should've just hit her, right in the face."
Maher then opined that "religion, first of all, makes people crazy" (or, really, Religion Makes People Crazy™), adding that Hasselbeck is a "religious nut."
"For some people," he went on, "religion is like great sex. Just can't think straight when they're on it."
He added that, when Hasselbeck "goes off like that, it's kind of hot." So she's like a MACKadamia, then? High fives all around, everyone! Perfect joke. Best joke. Your new favorite joke.
Check it out, via E!
h/t NewsBusters
Have a tip we should know? tips@mediaite.com