Bill Maher Finds Subtle Racism In GOP Ad: 'I Tried The Black Thing, It Just Didn't Work Out'
Maher Finds Subtle Racism In GOP Ad: 'I Tried The Black Thing, It Just Didn't Work Out'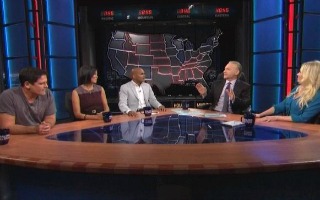 On HBO's Real Time with Bill Maher, the host identified a subtly racist message within a Republican National Committee ad which targets independent voters who voted for Barack Obama with the message "it's okay to make a change." Maher thought the message the ad conveyed to white voters was, "You're a good person. You tried. You gave a job to the black man."

RELATED: Bill Maher: Obama May Lose The Election Because He Never Thanked His Big Donors
Maher played a 30-second RNC ad which attacks President Barack Obama over the state of the economy and high unemployment and concludes by telling its viewers, "He tried. You tried. It's okay to make a change."
"I find that to be a subtle racist message," said Maher.
"What on earth are you talking about," asked an incredulous National Review columnist Reihan Salam, throwing his hands up.
"I never heard this in an ad: 'You tried. He tried. He tried. Black people are lovely, but this presenting thing really isn't' for them,'" said Maher.
"For two years, the Clinton people were saying the same stuff," Salam protested.
"To me, it sounds like a douche commercial," offered Chelsea Handler. "It's not even a black thing. It's just like, 'you're so sad, you're so slow, you're so stupid.'"
"It lets people off the hook for saying, 'You know what? I tried the black thing. It just didn't work out,'" said Maher.
"Not everyone is as race obsessed as you are, Bill," replied Salam.
"I'm not race obsessed," Maher concluded.
MSNBC host Alex Wagner noted that the ad targeted voters who still like the President personally and takes a softer approach than Mitt Romney recently saying Obama's "heart is full of hate."
Watch the segment below via HBO:
> >Follow Noah Rothman (@Noah_C_Rothman) on Twitter
Have a tip we should know? tips@mediaite.com