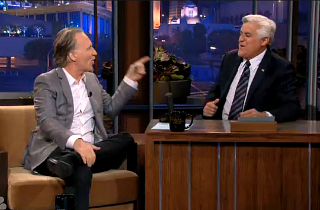 Bill Maher appeared on The Tonight Show last night and ripped on NBC and Jay Leno directly to the host's face.
While discussing the situation in Egypt, Maher suggested the release of deposed President Mubarak may signal the Egyptian desire to bring him back because he was better than the replacement, "kind of like what NBC keeps doing with you, Jay."

Leno's stint as Tonight Show host ends in February 2014, reportedly after being pushed out by network brass. This marks the second time in a decade that Leno was "fired" by the network; except the first time, he was brought back during the infamous debacle known as "ConanGate."
-RELATED: No, The Actual Libertarian Movement Didn't 'Go Nuts' — It's Just The One Inside Bill Maher's Head
Leno looked down uncomfortably while the crowd cheered on. Maher said "I don't want to get into it," before launching into a swipe aimed at NBC's botched handling of Leno's career:
MAHER: Was it 2009 when you first got fired?

LENO: … It was 2008.

MAHER: You were number one in the ratings at that time? And now you're number one again? And they're firing you?

[APPLAUSE]

MAHER: I have a question.

LENO: Oh, we are out of time!

MAHER: No, no. So they fired you once when you're number one and now they're firing you again when you're number one. What the f*ck is wrong with you? What is so wrong with you, Jay? What do you do to keep pissing people off like this?

LENO: I have the wrong guests on all the time. That's the trouble.
Watch the clip below, via NBC:
— —
>> Follow Andrew Kirell (@AndrewKirell) on Twitter
Have a tip we should know? tips@mediaite.com