Bill Maher Launches Christine O'Donnell Blackmail Scheme With Clip Of Her Admitting To Witchcraft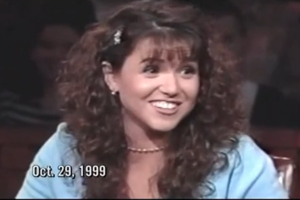 Bill Maher and Delaware GOP Senate candidate Christine O'Donnell go way back– namely, all the way back to "1997 or something," when O'Donnell appeared semi-regularly on Politically Incorrect. Now that she is a celebrity, Maher used his first show of the season to remind O'Donnell that "I made you," and warn that he would release an old clip of her weekly until she came to Real Time. This week's was of O'Donnell admitting to going on dates to Satanic altars!
Maher seemed to remember her visits to the show fondly, sending her good wishes and predicting that she may be more successful than Sarah Palin because "Sarah Palin is mean and Christine is not." Despite deeming her nice enough to not attack her in any direct way, Maher was not above digging through old clips of her on his program saying wacky things in order to get her back on his show. "It's like a hostage crisis," he explained, "Every week you don't show up, I'll throw a body out."
Last night's body was from 1999, and the discussion was on witchcraft. O'Donnell, who from the clip appears to have been talking about her faith before admitting to said witchcraft, explains that because she had been a part of Satanic circles, she understood better than most why faith (in non-Satanic religions) was so important.
The bizarre thing about the "attacks" on O'Donnell so far is that few, if any, have anything to do with actual policy. Few know what her actual political beliefs are outside of her hyper-conservatism in her private life and, as Bill O'Reilly said on his program last night, she is a woman who "is not remarkable in any way" politically. Her Tea Party compatriots– Rand Paul, Sharron Angle, Marco Rubio, et al– have all been viciously attack on policy. O'Donnell is being attacked for having been cutesy and wacky in the 90s, (as if she were the only person who was cutesy and wacky in the 90s). Not even Bill Maher can come up with something particularly mean-spirited to say about her. As embarrassing as the clips may be, having a far-left commentator try to coyly humiliate her just to get face time with her is about as positive an endorsement as any Tea Party candidate has gotten.
The vintage O'Donnell Clip via HBO's Real Time below:

Have a tip we should know? tips@mediaite.com