Bill Maher: Liberals Have To Get Out Of 'Bubble' And Realize Obama Might Not Win Reelection
Maher: Liberals Have To Get Out Of 'Bubble' And Realize Obama Might Not Win Reelection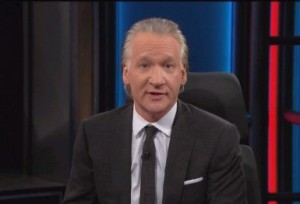 Bill Maher has been doing a segment on his show every week about how conservatives are stuck inside a bubble and do not let facts get in the way of their worldview. But in his final New Rule tonight, Maher acknowledged that liberals live in a bubble too, especially if they think President Obama will easily soar to reelection against candidates like Mitt Romney or Rick Santorum. And Maher said there is a very realistic chance Obama might lose in November.
RELATED: Bill Maher Says President Obama Will Beat Romney 'Like a Runaway Sister Wife'
Maher joked that Obama should be thanking Santorum for helping his campaign, because of how much Santorum has been putting the focus on social issues and giving the Democrats an issue to run on. The comic admitted that Santorum has given him a lot of material, with some juicy quips coming Romney's way too. Even though Maher has said previously that Romney may very well be the next president, he mocked the GOP frontrunner for his inability to be consistent and his many gaffes talking about his great wealth.
And given all those factors, Maher said he's heard liberals saying with great confidence that Obama will easily win reelection. But Maher is more pessimistic about the race, arguing that the "joke candidate" sometimes ends up winning. And, of course, he brought up George W. Bush as the basic example of this, a Texas governor with a habit of misspeaking running against Al Gore, "a one-man genius bar." Maher even went as far back as Ronald Reagan, who people were dismissing as a serious political candidate in the 1960s because he was an actor. In fact, Maher reminded people that the idea of a Reagan presidency was a punchline on the popular TV show Laugh-In in the 60s. (Here's actually a clip from the show making surprisingly accurate jokes about future events.)
RELATED: Bill Maher Presents Obama Super PAC With $1 Million Check
Maher noted that Obama is losing to both Romney and Santorum in the swing states, and then said that like conservatives, "liberals have their bubble too."
"Inside it, Obama is a shoo-in because the Republicans are just so ridiculously out-of-touch. Well, they may be out of touch with you, but believe me, they're in touch with your brother-in-law in rural Pennsylvania."
Watch the video below, courtesy of HBO:
Have a tip we should know? tips@mediaite.com
Josh Feldman - Senior Editor