Bill Maher: Romney's Reaction To Violence In Egypt And Libya 'Lost [Him] The Election'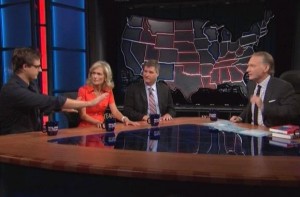 Bill Maher opened the panel discussion on his show tonight by ripping into Mitt Romney for his reaction this week to the violence in Egypt and Libya. Maher said that Romney's reaction this week likely lost him the election, even among average voters who only know the barest details about the conflict, and fired back against the Republican talking point that Obama is somehow "weak" on foreign policy.
RELATED: Gretchen Carlson And Chris Wallace Fight Over Romney's Attack On Obama After Ambassador's Death
Maher argued that "this is the week that Mitt Romney lost the election" because of how he handled the situation brewing in Egypt and Libya. He said that politically speaking, President Obama looks much cooler and collected. Republican strategist John Feehery said that "all hell is breaking loose in the Middle East," to which Chris Hayes shot back by saying it would be more accurate to describe the thousands of dead Americans in Iraq as "all hell breaking loose."
Zanny Minton Beddoes noted that the Romney campaign was saying that they would be fine once they get to the VP selection, the conventions, and the debates, but they've already had two of those and they're still getting such negative scrutiny. She argued that foreign policy is not Romney's "strong suit." Maher added that a surprising number of Republicans have come out publicly criticizing Romney for his handling of the situation.
Maher suggested that the average voter looking at what Romney said this week would find his comments to be "phony." Hayes piled on, slamming Romney for saying Obama "sympathized" with the attackers. Maher also noted that the statement being attacked by Republicans was not from the White House, but the U.S. embassy in Egypt.
And as for the charge that Obama is weak on foreign policy, Maher couldn't figure out why that was such a popular talking point about the president who ordered the raid that took out Osama bin Laden. Feehery compared Obama's handling of the situation in the Middle East to Jimmy Carter and the Iran hostage crisis, but Maher shot back by saying that Obama "personally said" that the military should send in extra helicopters, unlike Carter.
Watch the video below, courtesy of HBO:
—–
Follow Josh Feldman on Twitter: @feldmaniac
Have a tip we should know? tips@mediaite.com
Josh Feldman - Senior Editor