Bill Maher Mockingly Defends 'Job Creator' Mike 'The Situation' Sorrentino Against High Taxes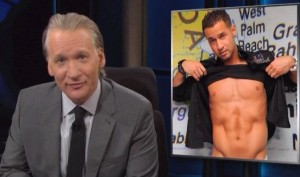 Bill Maher used his New Rule tonight to ask once again why middle-class Americans vote against their economic interests, supporting candidates like Donald Trump and speaking out in favor of lowering the taxes of millionaires and billionaires.
Maher acknowledged that as a millionaire in favor of higher taxes, he was himself voting against his own economic interests, and so decided to become a regional fundraiser for Mitt Romney's campaign, donning a "Mitt's the Shit" cap that Tom Morello and Michael Moore immediately wore alongside him.
He highlighted the term "job creator," a Republican euphemism for "rich person," and joked that as a proud job creator, he doesn't want to live in an environment of "uncertainty" with taxes that slightly inconvenience his wealthy lifestyle. He bemoaned all the problems rich people feel on a day-to-day basis, from their private islands to their talkative limo drivers. In order to maintain his standard of living, Maher said he had to fire essential employees like his TiVo programmer and his dog whisperer.
Finally, Maher dropped the mock support of rich people and suggested that every time the word "job creator" is used, Americans should think of none other than The Situation from "Jersey Shore." Why?
The Situation made five million dollars last year, and if he has to pay a little more in taxes, it won't mean he's creating fewer jobs. It will mean a tiny fraction of his money actually pays for the government that works to keep him alive.
Finishing up with the King of Guidos, Maher quipped that "if any single person proves that America is asking for it, you're looking at him."
Watch the video below, courtesy of HBO:
Have a tip we should know? tips@mediaite.com
Josh Feldman - Senior Editor