Bill Maher: "If Muslim Men Could Get Laid More," There Would Be No Suicide Bombers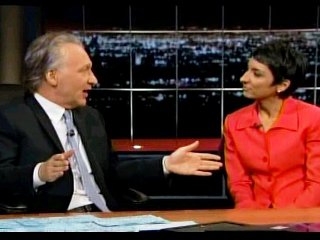 A full zero episodes of Real Time with Bill Maher have passed since the host's last provocative remark about Islam, so naturally, we were due for another. And tonight, in speaking to Irshad Manji of NYU's Moral Courage Project, he delivered.
It should be noted that the conversation between Maher and Manji was good-natured and good-humored, and the two actually shared a fair amount of common ground. But Maher, of course, was willing to go a little further to make his point than Manji, including a photo of Saudi men "taking pictures of a goat's ass," which led to Maher asserting (after being brought back slightly more on topic by Manji) that "sexual repression" might play a role in violence on the part of radical Islam:
"I've said it many times…if Muslim men could get laid more, we wouldn't have this problem. There's probably no suicide bomber [who] after he died, people said, 'You know, that guy, he blew everybody up, but boy – he got laid a lot.'"
Of course, the "men go crazy if they don't get laid" comedy trope isn't limited to Muslim men, so Maher's not treading new ground here, except perhaps in directly tying the idea to suicide bombing.
Manji wasn't quite ready to go there, but did use the bit as a segue into discussing the problem of women being "considered the vessels of shame…responsible for holding up the reputation of the entire family" in "Arab tribal culture." Additionally, she agreed that this means "men…are turned into children" – as Maher said, there's an implication that "if we see any part of you, we can't control ourselves." Indeed, according to Manji, it's this tribal culture, rather than the Qur'an or Islam itself, that leads to men not having to take responsibility for their actions.
While Maher and Manji often did see eye-to-eye, the "get laid" and "goat's ass" segments – especially given some of Maher's past controversies – will only lead to even more consternation in the future regarding his views on Islam. Video below, via HBO.
Have a tip we should know? tips@mediaite.com