Bill Maher: Hasn't Obama Signed His Own Death Warrant As A Candidate For 2012?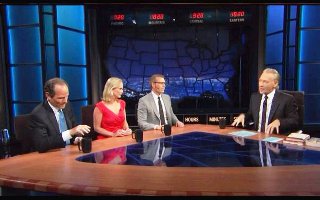 Well, Bill Maher's still not happy with President Barack Obama. In the same week he told Lawrence O'Donnell that he wasn't sure what the president was thinking when it came to tackling the nation's debt problem, he used the beginning of his panel debate on tonight's Real Time to essentially say the same thing. Suffice to say, Maher believes Obama is letting the other party dictate the action…and that next November, it could cost him.
Maher's panelists were Eliot Spitzer (whom the host praised as an "old-school Democrat"), Margaret Hoover (whom the host praised as called an "old-school Republican"), and Tea Party rep Matt Kibbe. The guests then lived up to their old-school reputation by using the old-school political tactic by…trying to talk over one another. Spitzer noted that the nation started running a deficit under George W. Bush. Hoover agreed the problem started then, but said Obama's doubled the debt. Maher and Spitzer took issue with assigning all the blame to Obama, etc., etc.
But where Maher did assign blame to Obama was in "caving" on the issue of increased government revenue, even saying, "I no longer understand this man." In fact, Maher thinks such "caving" has neutered the potential of any budget plan to the point that whatever agreement is eventually reached will "strangle the recovery in the crib." It was enough to make Maher, who you might have noticed hasn't been shy about mocking some of the GOP's most prominent 2012 presidential hopefuls, say this:
"Hasn't Barack Obama signed his own death warrant as a candidate for 2012?"
Oh, and Maher also said something about Tea Partiers never having a problem with spending until "Blacky McBlackman" was in office (even while Hoover and Kibbe disagreed). Of course he did. Video below, via HBO.
Have a tip we should know? tips@mediaite.com