Bill Maher: Obama May Lose The Election Because He Never Thanked His Big Donors
Maher: Obama May Lose The Election Because He Never Thanked His Big Donors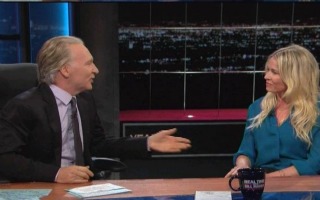 On HBO's Real Time with Bill Maher on Friday night, Maher interviewed comedian Chelsea Handler about a story in the New York Times that revealed many of President Barack Obama's 2008 supporters are reluctant to assist in his 2012 reelection effort because he never properly thanked them. Maher said that not offering his thanks to his 2008 supporters "may be his tragic flaw."

RELATED: Bill Maher To Panel: 'The Problem With Racism Is Matt Drudge'
Maher began by reading a portion of a recent Maureen Dowd column in the New York Times in which she details how the President's supporters have become disenchanted with the campaign because they are not receiving timely thank you notes or gestures of gratitude from Obama.
"Did you get a thank you note," asked Handler after Maher recounted how he donated $1 million to a pro-Obama Super PAC.
"No, and I didn't expect it," Maher replied. "I think this is his tragic flaw. I do know some of these big money people – some people who really helped him a lot, worked their asses off for him. And they hate him now, and they are not working for him this time."
"I can't imagine he doesn't have a social secretary that sends out thank you notes," Handler concurred. "I've heard the same things: a lot of people don't want to donate this time around because I haven't heard from him this year. Why would the President be calling someone like David Geffen?"
"He could lose the election because he has lost so many important, big type people, because he can't write a freaking thank you note," said Maher. Handler disagreed, saying that the President should be receiving rather than sending out thank you notes.
Watch the segment below via HBO:
> >Follow Noah Rothman (@Noah_C_Rothman) on Twitter
Have a tip we should know? tips@mediaite.com