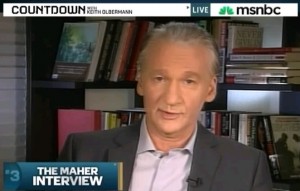 Because Real Time is on hiatus until January 14, Bill Maher has some time to kill. Before setting off on a nationwide comedy tour—which is taking him to cities like Peoria and Tulsa in the next few weeks—he stopped by Countdown tonight to trade barbs about Conservatives with Keith Olbermann.
Unsurprisingly, Maher's railing against the Right was unrelenting. He started out by calling Tea Partiers "the nuts that fell out of the nut bag," then took aim at Sharron Angle—though Harry Reid, Maher said, is a charisma vacuum, his senatorial opponent was like "crazy lady with 20 dead cats in the basement." Eventually, Maher got a bit more serious, bemoaning President Obama's quixotic, stubborn pledge to encourage bipartisanship. "Bipartisanship is one of those things that is so highly overrated," Maher told Olbermann.
Olbermann then asked Maher if it would be fair to say that Republicans are better at achieving their governmental goals than Democrats. Maher answered that Republicans are indeed "way better," because today's Democrats don't "twist arms" the way progressives in FDR and LBJ's administrations did.
He followed that with a statement that will seem like a truism to some and a radical distortion to others: "There are no Republicans on the moderate side. … At some point, the left moved into the center. The right moved into a mental hospital." The middle, according to Maher, has accordingly become right-of-center. Whether you believe his assessment, of course, will depend on your political beliefs.
Watch video of Maher's Countdown appearance below.
Have a tip we should know? tips@mediaite.com