Bill Maher On Zimmerman Tape: Is There Any Doubt That He Is A 'Big F*cking Liar?'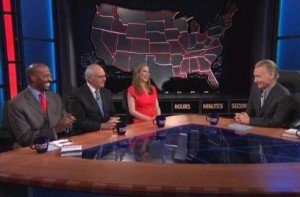 Bill Maher got really fired up on his show tonight over the Trayvon Martin shooting, and tore into George Zimmerman for his pithy defense of his actions that night, bluntly calling him a "big fucking liar." Maher showed the tape of Zimmerman, which may or may not disprove the claim that Martin broke his nose and fought with him. Maher thought Zimmerman's claim was completely ridiculous, and asked if the tape was definitive proof that Zimmerman was lying about the struggle.
RELATED: Dan Abrams On GMA: New Zimmerman Tape A 'Game Changer'
Panelist Van Jones noted that in most cases, the families of the victim tend to trust that "the police is on your side," but since the police didn't arrest Zimmerman due to the stand your ground law, Jones admitted that he wasn't sure how to make his kids safe if they couldn't trust the police or wear hoodies or whatever else may be too dangerous for them. Maher asked if at this point, anyone could doubt that Zimmerman was lying.
Rich Galen made it clear that no matter what kind of person Martin was, he didn't deserve what happened to him, and tried to point out that teenagers die needlessly due to traffic accidents, but Maher steered the conversation back to the topic. He said that if it was true that Zimmerman had a broken nose, blood would have been all over his shirt in the video. He asked why "the right [is] so anxious to defend George Zimmerman" and suggesting that everyone is rushing to judgment.
Jones credited President Obama for daring to bring up the racial aspect of the case, to which Galen noted how striking he found Obama's words to be, saying it was "exactly the tone" he wanted Obama to take. Maher brought up a quote from Fox News' Jim Pinkerton saying that the media has a "predilection" for stories about young teenagers killed or missing, to which Maher rebutted by saying that the media is only interested in such stories when they involve blonde girls.
RELATED: Hannity Takes On Trayvon Martin Attorney: 'Are We At A Point Where There's Been A Rush To Judgment?'
Maher said that the story doesn't seem to fit the normal "right-wing bubble" because in that world, he argues, it's African-Americans who tend to be the troublemakers. Daily Beast columnist Elise Jordan agreed that a lot of the comments surrounding the case have been "disgusting," but added that Zimmerman deserves his day in court. Maher rebutted by saying that "he has to get arrested first."
Watch the video below, courtesy of HBO:
Have a tip we should know? tips@mediaite.com
Josh Feldman - Senior Editor