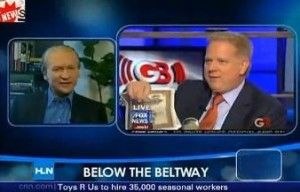 Two Joy Behar shows on HLN so far, two conversations about Fox News host Glenn Beck.
Last night Behar had HBO host Bill Maher as a guest for her "below the beltway" segment, and as expected, Maher didn't hold back on any topic. But it is what he had to say about Beck that will get the most attention.
Behar seems to think, "Glenn Beck Is watching my show right now," and said "It's possible he's trying to think of new ways to yell at Obama."
Maher said Republicans have recently embraced the "non-intellectual type of person," citing Sarah Palin, former Pres. George W. Bush and Dan Quayle as examples.
Then he turned his attention to Beck. "He's a bimbo and he's a crazy one," said Maher. "I'm telling you it is not that long before we're going to find Glenn Beck dressed as a woman or playing with his feces."
"That's a reality show I don't want to miss," said Behar, laughing.
This of course, is only feeding into the mythology that is Glenn Beck. The more people like Maher and Behar, famous liberals with major platforms, continue to attack Beck, the more power he gains. Will he talk about it on his show tonight? Maybe. Then again, more than four times as many people watch Beck's program each night than watched Behar's premiere.
But Maher's statement gets sites like us and others to write about Behar's show, and link to the video (below). Just like his Time magazine cover boosted his national platform, being the focus of a purposely hyperbolic knock like Maher's will only further cement Beck's place in the pecking order of Republican talking heads.
(One side note – Maher, who doesn't understand why Hollywood-types would stand behind Roman Polanski, had this joke: "A polish pedophile – he hits on adults.")
Here's the interview – Beck conversation starts at 5:00 (h/t Newsbusters):


—–
» Follow Steve Krakauer on Twitter
Have a tip we should know? tips@mediaite.com