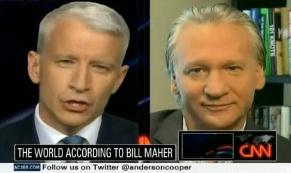 Both sides of the aisle simultaneously love and hate Bill Maher, and his wide-ranging opinions have never been more clear than during an interview with Anderson Cooper last night on CNN.
In fact, Maher, whose name has often been thrown around as a possible permanent cable news personality, made the case why he may be exactly what CNN needs.
On one hand, Maher took a hard stance on the suspected Times Square bomber case. First, it was aimed at the Obama administration (and ultimately Janet Napolitano): "I think we should change the no-fly list to the no-getting-on-the-damn-plane list."
Then it was his unique and intriguing take on the mentality of the with the suspect himself:
I don't think the problem is that guys like this hate America. I think the problem is that they like America and they feel guilty about it. They come here, they like eating at Chili's, and they like the waterslide, they like going to the strip clubs. Then they get on their jihadi websites and they feel terribly guilty about it, and they decide, 'well if things go bad…'
A knock at Muslim religion and culture to be sure, just like this: "People who want to gloss over the difference between Western and Islamic cultures…do so at their peril."
Meanwhile, when it came time to talk about the other big story in the news, the oil spill, Maher gave his take on why some on the right decided to deem this "Obama's Katrina." "In the minds of those who don't think too far or too deeply, 'OK, disaster, Louisiana, OK that's enough. I don't have to think any further."
This echoes the dichotomy of Maher's opinions last week, when he praised Western culture as "better" on Friday and drew connections between racists and the Republican party (but didn't call all Republicans racist) on Sunday.
The point is – he isn't "right" or "left." He doesn't straddle one particular talking point put out by either the Democratic or Republican party. He's unique and hard to peg politically (I realize the right, almost universally, thinks he's a hardlined liberal, but it hasn't always been this way, especially during his Politically Incorrect years). He can be the sort of personality boost CNN needs. Yes, he's a comedian. But one of Fox News' big stars used to be a radio morning zoo host. One of MSNBC's top rated hosts was a longtime sports anchor. It's not so extreme to throw a "day job" comedian into a news slot and see what happens, especially someone as politically interesting as Maher.
Here's the full interview:

—–
» Follow Steve Krakauer on Twitter
Have a tip we should know? [email protected]