Bill Maher Panel Descends Into Shoutfest Between GOP Guests And Cornel West Calling Obama 'War Criminal'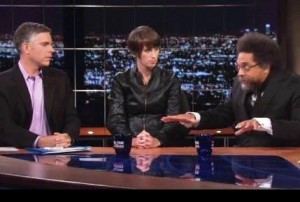 During tonight's Real Time, Bill Maher confronted panelist Cornel West about his criticism of President Obama as a war criminal. West stood by that assertion, and he immediately got into a heated argument with his fellow panelists, one of whom said it would be ludicrous for U.S. presidents to be prosecuted for engaging in things like drone warfare to keep the country safe.
West proudly told Maher he's "telling the truth about Obama," and while he doesn't hate the president, he finds it outrageous that innocent children are being killed in drone strikes. Maher shot back that "Obama didn't do it for shits and giggles," while The Daily Caller's Matt Lewis mockingly asked West about whether Andrew Jackson was a war criminal for what he did to native Americans.
RELATED: Professor Cornel West: Obama Is A 'War Criminal' Like Nixon And Bush
Republican Liz Mair agreed with West that most liberals are not as consistent as West when it comes to criticizing Obama for continuing and expanding Bush-era policies, but while both presidents have "pissed me off tremendously," Mair explained the bigger issue is how neither man has been upholding their oath to protect and defend the Constitution. Lewis said if the U.S. prosecuted every president we'll become a "Banana Republic," and argued the better solution is not to prosecute Obama, but to beat him in an election.
The panel also talked about Edward Snowden and his revelations, which Maher somehow downplayed as insignificant. When West insisted that the NSA's actions are "crimes," Maher could only counter that by saying they were approved by Congress.
Watch the video below, courtesy of HBO:
—–
Follow Josh Feldman on Twitter: @feldmaniac
Have a tip we should know? tips@mediaite.com
Josh Feldman - Senior Editor