Bill Maher, Rachel Maddow, And Reason's Nick Gillespie Have Epic Showdown Over Fast & Furious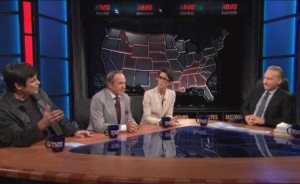 On his show tonight, Bill Maher ripped into Republicans for making the Fast & Furious scandal out to be more, well, scandalous than it is. Rachel Maddow piled on by arguing that the GOP's primary motivations for pursuing the scandal are conspiratorial in nature. Towards the end of the discussion, Reason editor Nick Gillespie called out both Maher and Maddow for always playing favorites with the Democrats over the Republicans. Yes, it got personal.
RELATED: Fox & Friends Gets Tense When Geraldo Defends Networks For Not Airing Reports On Fast And Furious
Maher admitted that he hadn't heard much about the Fast & Furious scandal that much despite the waves being made in conservative media over the past year or so. He marveled at how much Republicans were obsessing over the scandal and the deaths of hundreds of Mexicans when, according to Maher, "Republicans don't care about dead Mexicans." Maddow dismissed the scandal as another byproduct of the Shirley Sherrod–James O'Keefe crowd, and argued that many Republicans are turning the scandal into some kind of conspiracy about President Obama trying to implement stricter gun laws in the United States.
Gillespie tried to make the case that the scandal is, in the parlance of Joe Biden, a big fucking deal, but Maher and Maddow were having none of it. Maddow argued that the operation actually began under the Bush administration, which Gillespie countered by saying it was only a "similar project." Mort Zuckerman, who somehow managed to get a word in between Maddow and Gillespie, brought up the documents being withheld by the Obama administration, but Maddow shot him down by saying the documents were irrelevant to the current case.
Maher said that not only was the investigation a "political witch hunt," but suggested race was somehow a factor, framing the Republicans' view as "two black guys selling guns to the Mexicans." When Gillespie tried to bring the discussion back to the importance of the scandal, Maddow interjected once again by insisting a real conversation cannot be had until the Republicans start addressing the issue seriously.
RELATED: O'Reilly Clashes With Kirsten Powers On Fast & Furious 'Fishing Expedition'
It was around this part of the interview where Maddow joked that she felt like a "narc" opposing Gillespie, which led into this rather uncomfortable back-and-forth.
Gillespie: You should not be forced by your Democratic partisanship to be forced to…

(Crosstalk.)

Maddow: I'm just trying to say a nice thing, and you're already, 'You're a hack!' Listen, dude, I'm not even a Democrat!

Gillespie: That's not what I'm saying…

(More crosstalk.)

Gillespie: You will always take the side of a Democrat over a Republican.

Maddow: No, I won't. You don't even know me.
Maher rebutted Gillespie by arguing on behalf of himself and Maddow that the Republicans have seriously changed over the past decade and are acting like "the party of the mental patients."
Watch the whole showdown below, courtesy of HBO:
Have a tip we should know? tips@mediaite.com
Josh Feldman - Senior Editor