Bill Maher: Romney Can't Run To Santorum's Right, Only People There Are 'Kirk Cameron And The Neo-Nazi Party'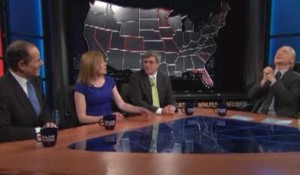 After a week of heavy emphasis on social issues and a possibly-related surge of Rick Santorum in national polls, Mitt Romney is throwing all of his egss in the Michigan basket, and Bill Maher said on his show tonight that after months of Romney being the inevitable nominee, there is now a very real chance that Romney's coronation may not happen. And if Romney loses Michigan, the entire Republican contest may descend into absolute chaos.
RELATED: Bill Maher: Rick Santorum 'Thinks Life Begins At Erection'
But leaving the hyperbolic pseudo-apocalyptic rhetoric aside, RealClearPolitics' Erin McPike suggested that a Romney loss in Michigan would lead to a brokered convention this fall. Maher prayed that Sarah Palin get back in the race again (which she hasn't exactly ruled out as a possibility). Steve Moore pinned Romney's inability to connect with voters as his main weakness, but it is technically "his turn" in the Republican party due to his strong showing in 2008 against John McCain.
Eliot Spitzer noted the three separate wings of the GOP: the libertarians, the social conservatives, and the "corporate leadership." The odd candidate out in this is Newt Gingrich, who has been totally eclipsed by Santorum on the "Not Romney" front. But Maher argued Romney is less effective this time around because the same strategy he used to take down Gingrich won't work on Santorum.
"He can't be to the left, because he's so suspect to the Republican base as a conservative that he cannot in any way go to the left of Rick Santorum. That's why when the idea of states outlawing contraception came up, he said, 'Well maybe that's a good idea.' But he can't be to the right of Rick Santorum because there's nothing to the right except Kirk Cameron and the Neo-Nazi Party."
RELATED: Bill Maher Jokes Romney Is 'All That Stands Between Us And The Rise Of The Apes'
Moore tried to argue that President Obama successfully played to the left of Hillary Clinton in 2008, a notion which both Maher and Spitzer disputed, and Spitzer argued that in fact Obama was to the right of Clinton in the race. Maher suggested another problem of Romney's was his inability to be human, with odd phrases spewing out of his mouth like "the trees are the right height" and "the grass is the right color." Any candidate for office has to be able to successfully convey the message that they are from the planet Earth, but it looks like Romney hasn't even been able to accomplish that.
Watch the video below, courtesy of HBO:
Have a tip we should know? tips@mediaite.com
Josh Feldman - Senior Editor