Bill Maher Finds Sarah Palin's "Birth Certificate," Says She Was Born Pregnant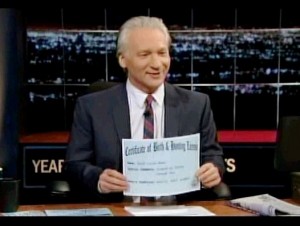 The status of President Barack Obama's U.S. citizenship is the "issue" that just will not die. Most recently, that's thanks to the attention-seeking efforts of the endlessly attention-seeking Donald Trump, which at one point included Trump releasing some birth-certificate-ish-but-not-actually-an-official-birth-certificate document. This inspired Bill Maher to look at not only Trump's, but other "birth certificates" of prospective 2012 GOP presidential candidates – documents even less valid than the one Trump produced.
Most weren't especially noteworthy – jokes about how Trump is an obnoxious blowhard, while true, aren't exactly groundbreaking. Ditto for pointing out that Mitt Romney has some spectacular hair. And it wasn't much of a revelation to hear that Maher thinks Michele Bachmann doesn't quite have it all together, or to hear him make fun of Mike Huckabee for…being from the South.
And as for the nastiest joke – no one seemed to notice it. Of course, one of the "certificates" Maher examined was that of Sarah Palin (or, at the time, Sarah Heath). Of course, there was a hunting joke involved. But more noteworthy was Palin/Heath's listed condition on the "certificate":
Healthy, alert, pregnant.
This line comes shortly after Maher infuriated many for calling Palin something we can't repeat during his stand-up routine. That line and others got Greta Van Susteren hoping Maher would never appear on Fox News again, and with Maher clearly not done throwing low blows Palin's way, one has to wonder if any other personalities will echo those sentiments. Any political satirist on the left would be expected to take shots at Palin, but the longer Maher keeps up this pace (and harshness) of Palin cracks, the more he risks making his Palin bashing look like an all-consuming obsession. Video of the segment, via HBO, below.
Close up of the '"Birth Certificate" below: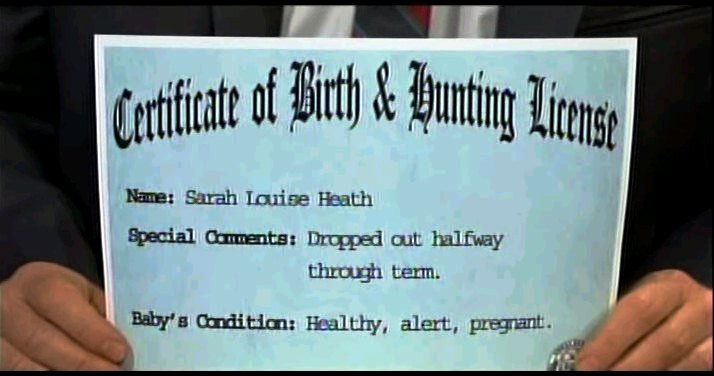 Have a tip we should know? tips@mediaite.com