Bill Maher Takes Credit For Defining Romney As A 'Cold, Robotic Tax Cheat From A Polygamy Cult'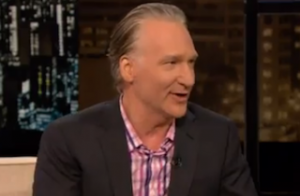 Bill Maher must be itching to get back on TV when Real Time starts up its new season this Friday on HBO, based on his appearance last night on E!'s Chelsea Lately.
Host Chelsea Handler asked Maher if he somehow knew President Obama would be re-elected before the results started coming in on election night. He responded, "Of course not, that's why I gave him a million bucks."
Maher does not regret his large contribution to the Priorities USA Action Super PAC, saying "it did work, that's the important thing." As proof that his money helped put Obama over the top, Maher referenced comments made by none other than Sarah Palin.
After describing Sarah Palin as "the illiterate forest creature who served half a term as the governor of a state with no people and is now the queen of brain farts," Maher explained that "after the election she said Romney lost because he was defined in the swing states early."
And he said it was his money that helped make that happen. "People did not change their minds much after February, March, April. That's when those ads went on and we had to define Romney as what he was: a cold, robotic tax cheat from a polygamy cult."
But perhaps Maher shouldn't be putting so much stock in Sarah Palin's assessment. As research published last month on The New York Times' FiveThirtyEight blog shows "the Obama campaign's blitz of early advertising did little apparent damage to Mr. Romney in the minds of voters."
Watch video below, via E!:
—
>> Follow Matt Wilstein (@TheMattWilstein) on Twitter
Have a tip we should know? tips@mediaite.com