Bill Maher Takes On Conservative Orgs: How Can 'Relatively Small Group Of Very Shrill People' Influence Policy?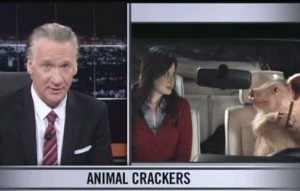 Bill Maher ended his show tonight with a New Rule that took on conservative groups for their disproportionate influence on the American political landscape considering just how small they are. Maher deemed this "shitkicker inflation" and called out every group from One Million Moms to the NRA for claiming to speak for the majority but really vocalizing the opinions of a small minority.
Maher opened by mocking conservative outrage over a Geico ad with the little pig mascot and a Skittles ad with a woman and a walrus. In both cases, groups like One Million Moms was outraged over tones of bestiality, to which Maher rebutted, "Aren't you thinking a little too much about bestiality?"
RELATED: Bill Maher: If Focus On The Family Is Really Doing God's Work, Why Are They Always Wrong?
Maher said that all things conservative are being portrayed as way bigger than they really are, like the fact that One Million Moms does not have one million moms, or how the Catholic League (a group Maher said makes even Pat Robertson roll his eyes) is not really a league. He argued both are a "relatively small group of very shrill people" who speak loudly enough that enough politicians think their constituents are more conservative than they actually are.
Maher claimed, "Americans don't hate socialism, they just can't define it." He also targeted the NRA for having a stranglehold on gun policy in the U.S. despite low gun ownership figures and their small membership.
Maher ended by turning to CPAC, the message of which he said was "whatever you do, don't change." He shot down the idea being touted by speakers at the conservative conference that they speak for the majority of Americans, saying that they don't, but "they're just so loud they haven't noticed America has moved on without them."
Watch the segment below, via HBO:
—–
Follow Josh Feldman on Twitter: @feldmaniac
Have a tip we should know? tips@mediaite.com
Josh Feldman - Senior Editor