Bill Maher Takes On Dinesh D'Souza Over Anti-Obama Documentary 2016
Maher Takes On Dinesh D'Souza Over Anti-Obama Documentary
2016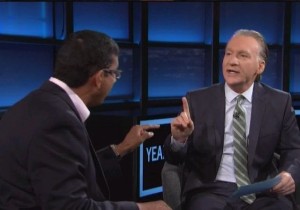 On his show tonight, Bill Maher squared off with Dinesh D'Souza, the face of a new anti-Obama documentary. Maher challenged D'Souza's claims that Obama holds anti-colonial, anti-capitalist views that he inherited from his father, argued that the policies Obama has implemented have not been as radical as Republicans have made them out to be, and even confronted D'Souza over the controversial comments that got him fired from ABC ten years ago, which were set off by comments D'Souza made on Politically Incorrect.
RELATED: Cenk Uygur Destroys Anti-Obama Author Dinesh D'Souza
Maher asked D'Souza about his claim that President Obama is full of rage. D'Souza cited the Affordable Care Act, claiming that Obama did not adopt a single Republican idea into the bill. Maher argued that the health care law is full of conservative ideas, and was a "blowjob" to the health insurance companies. D'Souza shot back by claiming that the Affordable Care Act was the first significant social program not to have bipartisan support on Congress. Maher said that the Republicans have had no interest in supporting anything that Obama has pushed for in Congress since his inauguration.
Maher went so far as to attack the patriotism of the Republican party for not wanting to fix the economy because it would allow Obama to secure reelection. D'Souza charged that Democrats acted similarly under George W. Bush, and the only reason they supported the war in Iraq was because of a post-9/11 "patriotic surge."
The conversation then turned to D'Souza's documentary, 2016: Obama's America, in which he claims that Obama is influenced by his father's anti-colonialist views. When D'Souza tried to defend his allegations, Maher asked him "how far up [his] ass" he had to go to think up that claim. And as for the contemporary applications of Obama holding anti-colonialist views, D'Souza argued that it is part of an anti-capitalist ideology Obama holds that views America as a "rogue nation."
The interview concluded with Maher bringing up the comments that got him in trouble when he hosted Politically Incorrect on ABC. He said that the terrorists flying planes into buildings are not cowards, but tonight Maher confronted D'Souza because he was only agreeing with what D'Souza said during his appearance on the show. Maher remarked that "it could have been helpful" if during the national firestorm over his remarks, D'Souza had stood up to defend him.
D'Souza first claimed that Maher got in trouble for saying that the United States is the real coward, which he did not say, but then said he defended Maher following the episode's airing on "free speech grounds." Maher asked D'Souza to give him a transcript of him saying that. D'Souza said he would try to find it.
Watch the segment below, courtesy of HBO:
—–
Follow Josh Feldman on Twitter: @feldmaniac
Have a tip we should know? tips@mediaite.com
Josh Feldman - Senior Editor