Bill Maher: Taliban Wants To Go Back To 8th Century, Christian Right Wants To Go Further Back
Maher: Taliban Wants To Go Back To 8th Century, Christian Right Wants To Go Further Back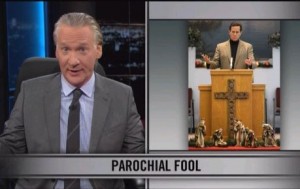 In his final New Rule of the night, Bill Maher set his sights on religious individuals who do not want their children going to college because they might be indoctrinated with more liberal politics and ideas that would make them question their faith. He posited that many Christians, including Rick Santorum, who was the main focus of the bit, are opposed to the idea of expanding one's knowledge beyond a certain set of ideas.
RELATED: Maher's New Rule: Atheism And Religion Are 'Not Two Sides Of The Same Coin'
Maher went after Santorum for being "so anti-knowledge," pointing out how the meaning of the term "Catholic" is historically synonymous with "universal." He suggested the Christian right wants to go back as far as the days of Adam and Eve, when knowledge was still out of the grasp of human beings. Sarcastically contrasting the Snow White fairy tale with the Biblical story, Maher said that Christians like Santorum deliberately place a bubble around their learning environment so their children are not exposed to outside knowledge that might make them question their religious convictions.
Like Santorum, Maher agrees that college is a force for indoctrination, but instead of indoctrinating students with liberal ideas, it indoctrinates "into the world of ideas." He suspected that Christians are afraid of their children going to institutions where they actually might develop questions about their faith. Maher said that the three scariest words to a religious person are "here's an idea." ("Bill Maher's on" also got a mention.)
RELATED: Bill Maher Round Table Discusses The Dangers Of Religion
Watch the video below, courtesy of HBO:
Have a tip we should know? tips@mediaite.com
Josh Feldman - Senior Editor