Bill Maher Tears Into 'Unprofessional' Cops In Boston Manhunt, Says America Is Becoming A Police State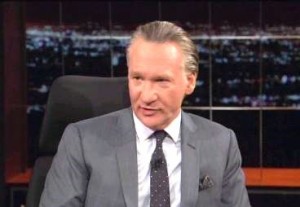 voiced some concerns tonight over the manhunt for the Boston bombing suspects last week and how much police presence there was in Boston and Watertown. Maher showed pictures of state and federal forces in Massachusetts, and cited them as evidence that America is becoming a police state, a point which got him some pushback from his panelists.
Actress Anna Deavere Smith said people already think there is a police state, given "stop and frisk" in New York, raising the question of who exactly it is that the police are meant to protect and serve. She said, "The police are beginning to act more like the military." John Avlon said he thought the police response was an appropriate one.
Robert Traynham told Maher that the kind of police activity in Boston isn't what people see every day, putting the particular events into perspective. Maher pointed out how the British police don't carry guns, and Jimmy Kimmel brought up public and government surveillance as the more important point of the "police state" argument.
Smith questioned if the U.S. is becoming not just a police state, but a "military state." Traynham acknowledged that these are "Big Brother techniques," but they ultimately helped authorities locate the bombing suspects. Avlon pushed back against the idea that America has suddenly become more Orwellian, sugg
Maher played a video of police opening fire in Watertown when they had the second suspect cornered, finding it too ridiculously over-the-top, considering everyone wanted to take him alive. Maher bashed the cops as "unprofessional" for opening fire in that particular situation.
UPDATE: Mediaite contributor Joe Concha addressed Maher's claims in a column here.
Watch the video below, courtesy of HBO:
—–
Follow Josh Feldman on Twitter: @feldmaniac
Have a tip we should know? tips@mediaite.com
Josh Feldman - Senior Editor