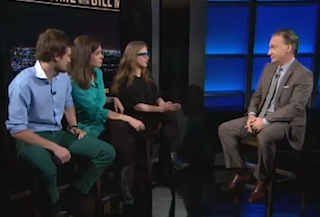 Last night on HBO's Real Time, Masha Alyokhina and Nadya Tolokonnikova of the Russian protest group Pussy Riot sat down with Bill Maher to discuss their journey from performance artists to political activists. The extended conversation, with translation help from Tolokonnikova's husband Petr Verzilov, touched on a lot of issues, but one particularly funny moment call when Maher asked the group, "What is with the gay hate over there?"
"Vladimir Putin talks a lot about, 'we've got to check the gays,'" Maher continued. "And in my experience, any time somebody talks a lot about how we have to get the gays in line, I mean, it turns out that they're really gay themselves. I mean, every time I see a picture of Putin, he's got his shirt off."
"People think that that might be the case," Alyokhina said to Maher's genuine surprise. "So far we haven't seen his active side of that, in that area."
"Yeah, same thing with Lindsey Graham here," Maher joked about the Republican senator from South Carolina.
RELATED: Pussy Riot Gives the Funniest, Best Colbert Report Interview Ever
On a more serious note, Maher asked the women if the "tough guy" Putin "secretly admires" them because they've shown such willingness to stand up to his regime. Tolokonnikova suggested that the fact that they got so much screen time on state television during their trial proves that might be the case.
Watch video below, via HBO:
[photo via screengrab]
— —
>> Follow Matt Wilstein (@TheMattWilstein) on Twitter
Have a tip we should know? tips@mediaite.com