Bill Maher: 'There Is One Religion In The World That Kills You When You Disagree With Them'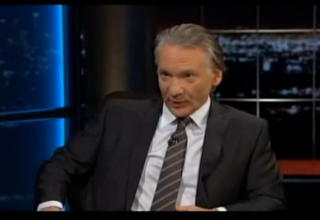 From his film work to commentary on his talk show, Bill Maher has made a career attacking religion. But he made clear last night that, to him, some religions are more equal than others, detouring from the conversation about the Florida pastor who burned a Koran to question why radical Islam, to him, seems to get a pass on violence, particularly in light of the Afghanistan killings prompted by said pastor.
Maher began the segment by condemning "Reverend Yosemite Sam" for his Koran burnings, but then noting that he was "very disturbed" by the way the situation in Afghanistan was handled. He respectfully disagreed with General David Petraeus's statements distancing most Americans from the pastor, accusing him of "blaming the victim." "All this talk about people who burn the Koran and nothing about the people who reacted so stupidly," he noted.
Guest Eliot Spitzer interjected to add Afghan President Hamid Karzai to the list of people with blood on their hands, as it was a speech by Karzai through which the Islamic extremists that attacked those UN workers found out about the little-known pastor in the first place. Despite upon whose shoulders lay the most blame, however, Maher was adamant to point out those with blood on their hands were, first and foremost, the killers with literal blood on their hands.
He also expressed concern about comments by Sen. Lindsey Graham that "free speech is a great idea, but we're in a war," which panelist Andrew Sullivan noted was, to him, a dangerous response to three ambiguous warfronts. "It comes down to blasphemy," he concluded– a point Maher jumped off of. "What it comes down to," he concluded, "is that tere is one religion in the world that kills you when you disagree with them. And they say, 'Look, we are a religion of peace, and if you disagree, we'll cut your fucking head off.'"
The segment from last night's Real Time via HBO below:
Have a tip we should know? tips@mediaite.com